Did you know that U.S. airlines made almost $5 billion in baggage fees in 2018? Yes, you read that right! The U.S. Bureau of Transportation Statistics data shows that airlines have been out there raking in major $$$ from chronic (or unsuspecting) over packers for years. With extra pieces costing at least US$50 a pop on most carriers, that means travelers have been throwing away money that could have been easily redirected into more positive memory-making transactions. Seriously, that's cash that could have been spent on things like new travel gear, unique dining experiences, additional room nights and extra days spent exploring somewhere cool.
Makes you wonder what the figure for the global airline haul was, huh? Well, I don't know about you, but it doesn't really matter to me. Because I'm not about that life.
I work too hard to collect my bi-weekly coins to be throwing them away paying for heavy or extra luggage that I'm going to end up schlepping around miserably anyway. Real talk: If you have to move from city to city, use public transportation, or climb stairs a few times during your trip, all that extra load can be cumbersome!
That, coupled with not liking to wait around for bags on the carousel, is why I've learned to pack my life in a carry-on, folks! By utilizing some of these tips, I'm rooting for you to do the same.
Take a good, hard look at your travel bag
Your road to baggage fees freedom often starts with investing in sturdy, lightweight luggage. Sometimes the extra weight is caused by the bags, not you! The older the suitcase, the greater the likelihood that the frame is heavier than the current norm. So, even though you may love the vintage suitcase Dulcimina you have, I encourage you to do some research on the multiple lightweight options that are now available.
Wear or carry your heaviest items
Bulky items like winter coats, jackets, sneakers and boots take up much needed space and weigh a lot. So, since I'm always cold anyway, I always wear my heaviest shoes and sweaters in airports and carry my winter jacket over my arm until I need to put it on.
Plan an interchangeable wardrobe
Have a loose idea of the things you want to see and do while away and plan your outfits accordingly. Never pack everything you take out of your closet on the first go-round. Also, color coordinate pieces so you can mix and match a bunch of blouses or shirts with a few bottoms, which are usually the weightier items. Lastly, it never hurts to throw in one or two pieces that transition well from day to night, when nicely accessorized.
Roll, rather than fold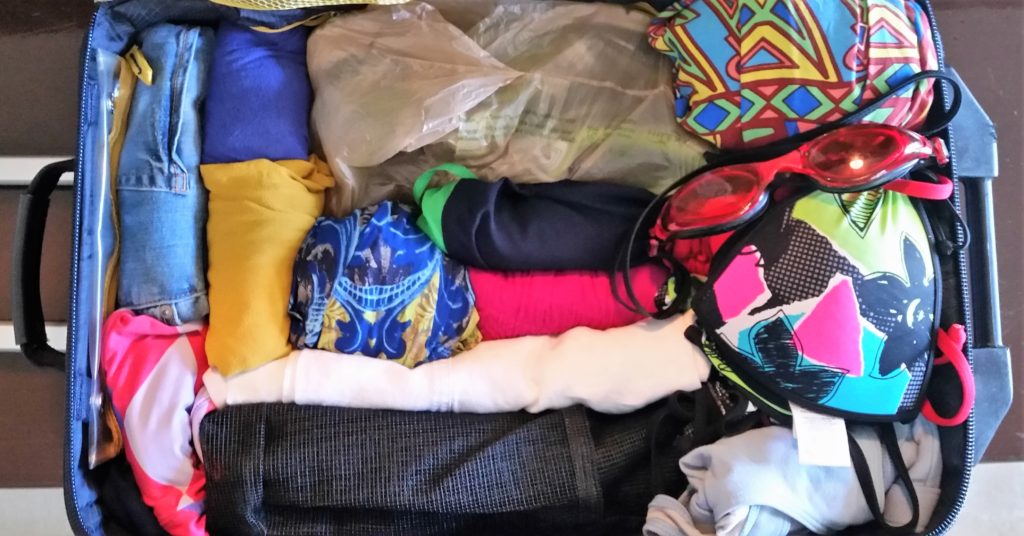 There are differing opinions on this technique due to potential wrinkling, but in my experience, clothes that are rolled take up less space and they fit better into all the nooks and crannies of your bag. You know, like those rounded corners or awkward spaces between the support bars down at the bottom? The key to overcoming rumpling is sticking to fabrics like polyester, knits, rayon, fleece, spandex and other microfiber material that don't wrinkle easily. Or, if you're into cotton and linens like me, just mentally commit to a one-time mass use of your hotel iron when you get to your destination.
Don't be too random
Order matters! Always put the heaviest items like shoes and full-length jeans at the bottom, and closest to the area where the wheels will be when the bag is standing upright. You can also maximize space by filling shoes and hollow items like water bottles with smaller items like socks, jewelry, travel-sized toiletries, and clean underwear.
I know a lot of travel bloggers swear by packing cubes and they look cool, but I've never used them. I get that they help you compress items so you can fit more into your bag, but I often wonder if that doesn't lead to excess weight – the very issue I'm trying to avoid to begin with. If you've used packing cubes and they've helped you, please tell me all about it in the comments below.
BONUS TIPS
And as a bonus for reading this far, if you feel you aren't ready to embrace the carry-on life just yet, you can still save on baggage fees by:
Paying for additional bags online
It's cheaper than doing it at the airport ticket counter.
Joining frequent flyer programs that include complimentary bags based on elite status
Depending on your loyalty level and your destination, you can sometimes get bags checked for free. With American Airlines' AAdvantage, for example, if you have Executive Platinum, oneworld® Emerald or are active U.S. military with ID on personal travel, you can get up to three bags checked at no additional cost. Delta SkyMiles Medallion members are also eligible for complimentary checked bags when traveling within the United States and Canada.
Using branded airline credit cards
Now, I'm always gonna be a strong advocate for reducing the number of credit cards in your wallet, but if you don't have one already, consider looking into a card being offered by your favorite airline. Many of them – crazy annual fee notwithstanding – include perks that allow for complimentary checked bags.  The JetBlue Plus Card, Gold Delta SkyMiles® Card from American Express, Southwest Rapid Rewards Plus Credit Card, and the United Explorer Card are just a few examples.