Who doesn't like to enjoy a good meal? We all do. In fact, the foodie experience is even more pleasurable when your taste buds are awakened with unexpected combinations of seasonings and spices, and when your senses of sight, sound and smell are dazzled by new surroundings. That's why I always try local foods when I travel. You should too.
Epicureans, gastromes, gourmands and foodies of the world you can unite and thank me now because I've rounded up some of my favorite Caribbean meals for your sampling pleasure. They are listed in no particular order.
Name of Dish: Goat water soup
Country: Nevis, the sister island to St. Kitts
My consumption spot: Bananas Bistro, Upper Hamilton Estate
Description: Their version of goat water is a thick, full-bodied soup filled with carrots, small dumplings and root vegetables. Naturally, the main protein is goat meat. In other places, the soup has a more broth-like consistency and it is consumed as an appetizer; not the main course.
Name of dish: Conch salad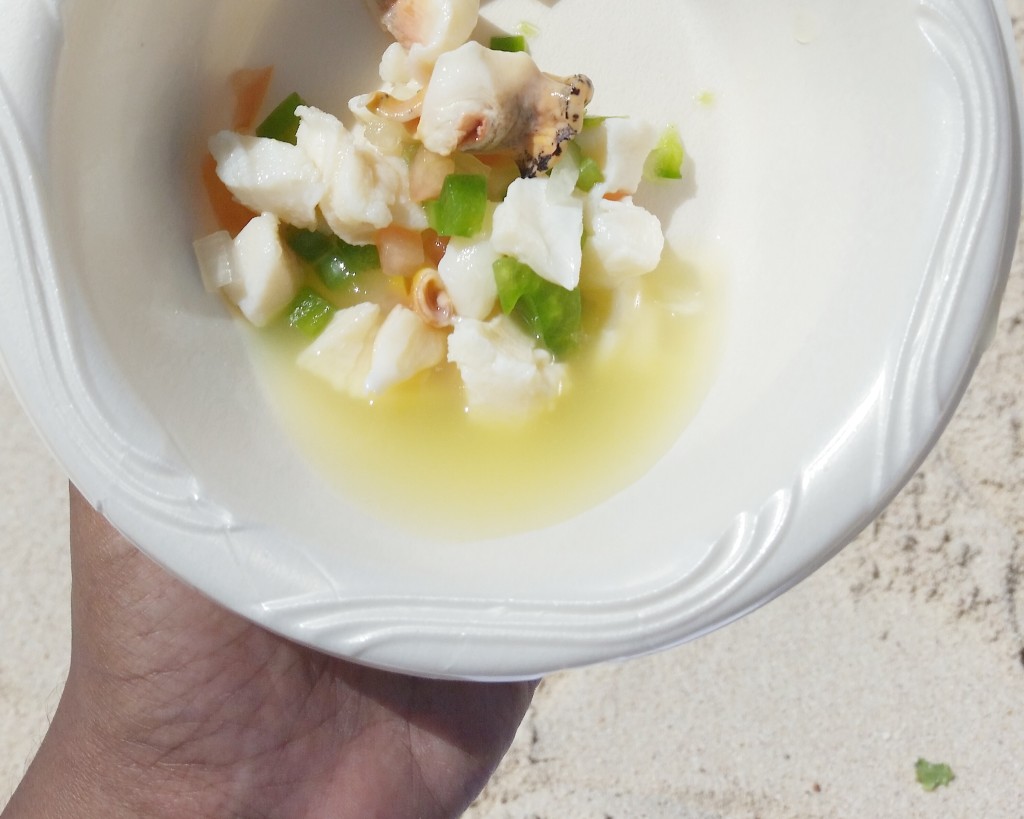 Country: The Bahamas
My consumption spot: A gorgeous picnic laid out on an elusive sandbar known as Tahiti Beach in Andros, a part of the Bahamas Out Islands.
Description: Conch is a popular menu item in many islands and you can have it prepared in several ways. In this salad, the conch was caught right near our boat, taken from its shell, cleaned and cut into small pieces. Our boat captain turned impromptu chef added diced peppers, onions and tomatoes then poured lemon juice over the mixture to cure the uncooked meat, like in a ceviche.
Name of Dish: Ackee and Corned Pork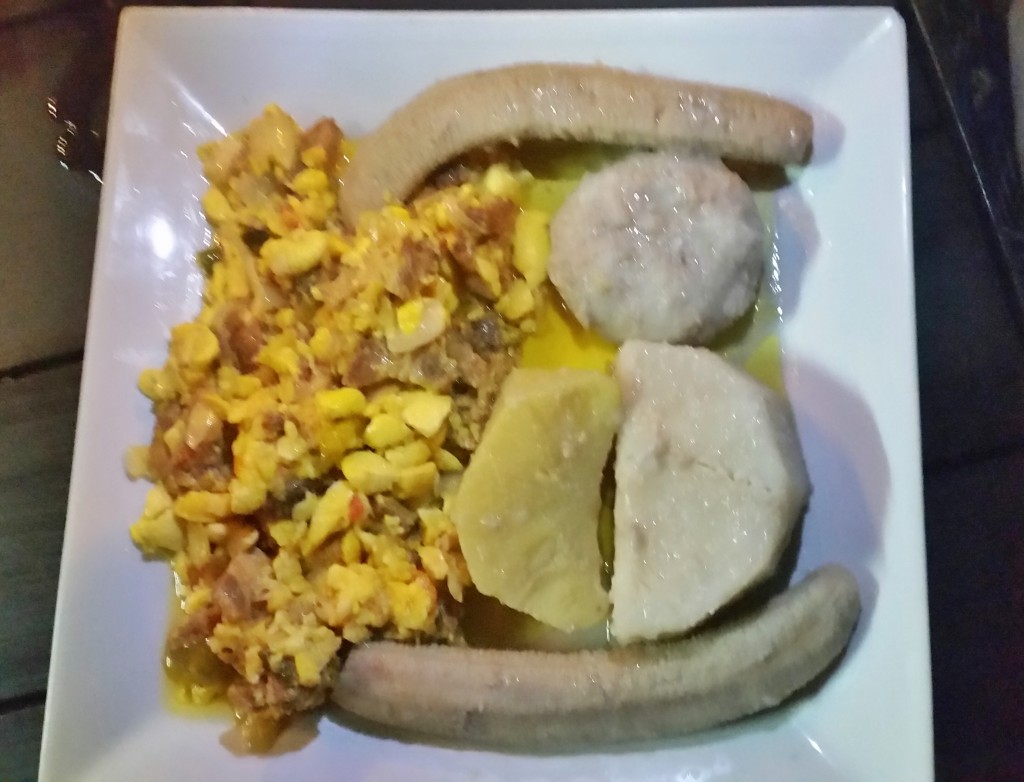 Country: Jamaica
My consumption spot: M-10 Bar and Grill in Vineyard Town, Kingston
Description: Ackee is a fruit that is one half of the national dish of my home country, Jamaica. Usually it is served with sautéed salt fish (cod) but on occasion it is paired with other proteins like sausages and corned pork. When cooked, at a glance it looks like scrambled eggs but it has a much creamier texture. Incidentally, ackee with its favored partner, salt fish, recently earned the number two spot on National Geographic's list of top national dishes around the world.
Name of dish: Oxtail with peas and rice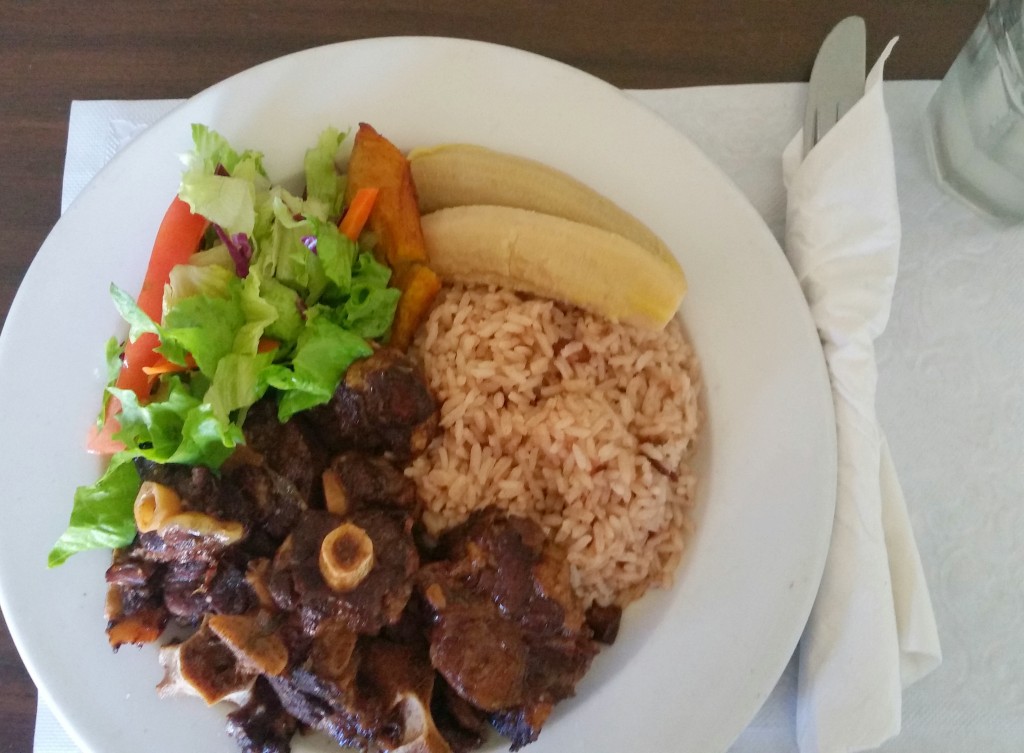 Country: Cayman Islands
My consumption spot: Welly's Cool Spot, Georgetown
Description: Yes, you read that right. The main ingredient in this dish is the tail of a cow! The meat is first tenderized in a pressure cooker and then slow-cooked to gelatinous perfection with fresh thyme, onions and other spices. Most places add butter beans to the mixture and serve it with kidney beans and rice, cooked with coconut milk for additional flavor.
Name of dish: Bake and Shark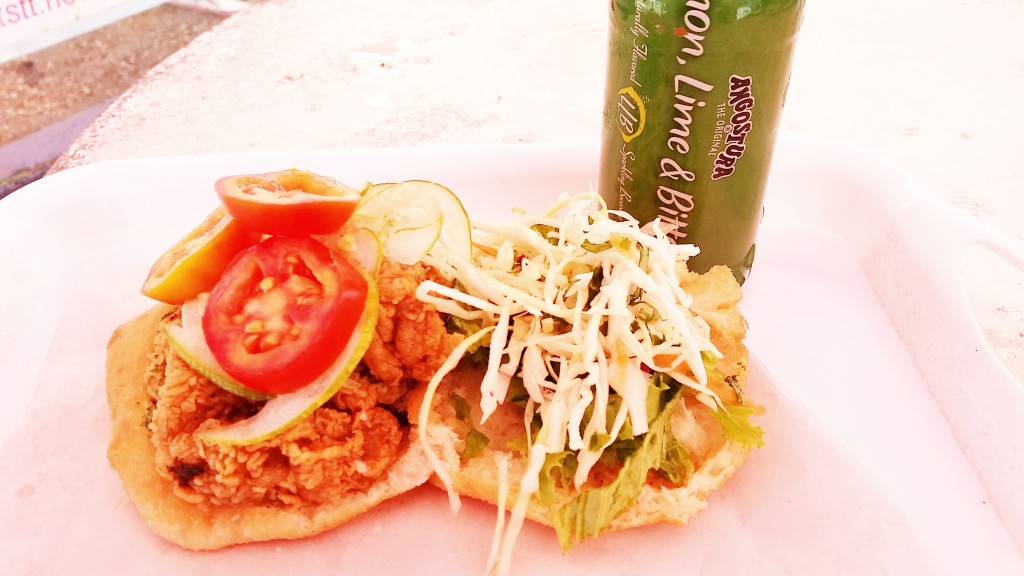 Country: Trinidad and Tobago
My consumption spot: Richard's Bake and Shark, Maracas Bay
Description: Quite arguably the most famous beach food in Trinidad, this fish sandwich starts out as a simple combination of fried pieces of shark meat served within a bun. It ramps up to noteworthy finger-licking proportions once you add the choose-as-you-go accompaniments. Food patrons have a choice of toppings and sauces that range from the mundane mustard and ketchup regulars to the more exotic tongue pleasers like mango chutney, tamarind and Shado Beni (similar to cilantro).
ARE YOU HUNGRY YET? I am.