When a relationship ends, the breakup can hit you in one of two ways. You either feel relief for finally having the courage to say goodbye to a cheating, deceitful or abusive ex, or your emotions shatter into a million pieces after realizing that your previously swell "plus one" flame has fizzled from hero to zero in one irregular heartbeat.
So, now that your romantic journey is over and you've landed in Splitsville, USA, what do you do? Lock yourself in your house for a while and cry your eyeballs out, of course! Or you play Adele, Sam Smith and Taylor Swift style breakup songs on 24-hour rotation while you gorge on indulgent foods and search for separation advice on Reddit. But after a while, the pity party must end. To heal a broken heart, get over a bad breakup, and move on with your life, you've got to create an ex-free environment.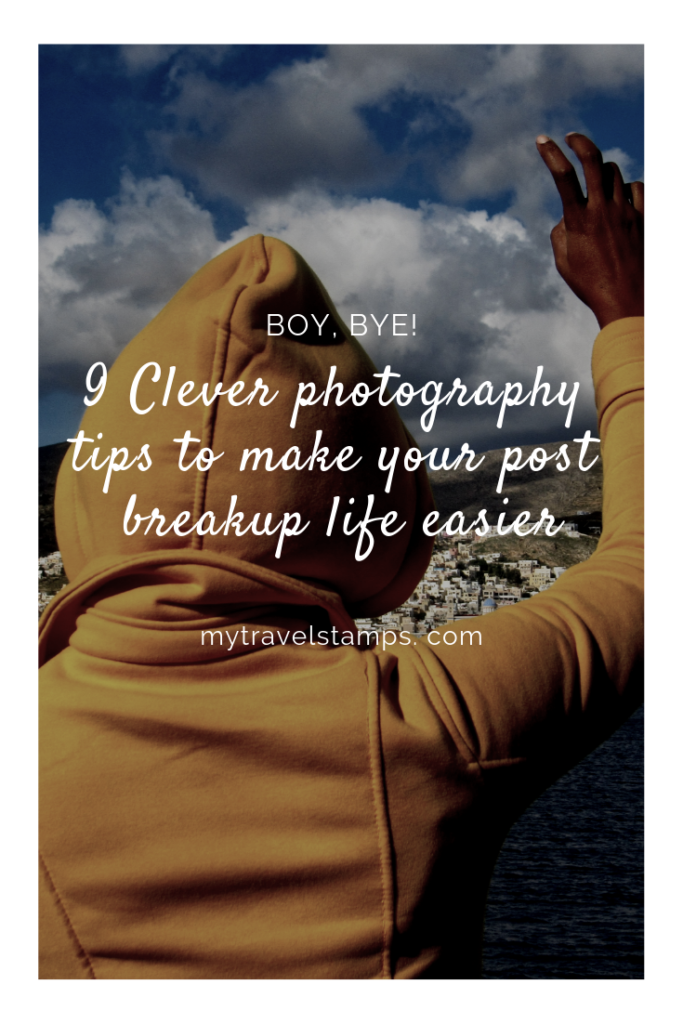 Usual breakup protocol includes blocking calls or changing your number, deleting old text messages, ghosting mutual friends for a while, and getting rid of pictures with your ex. But what if I told you there are ways to avoid having to go on an immediate Facebook and Instagram purge, especially when it relates to the matter of epic vacation photos? I don't know about you, but it's incredibly hard for me to destroy evidence of my time in a sweet location, and it's even more painful when it's a destination I'd been dreaming of visiting for a long time.
That's why I've studied the techniques of some image-savvy social media accounts that will keep our 'Gram and Facebook feeds intact. Even better, these photography tips are guaranteed to elevate our social media game while ensuring that looking at old photos will be a little easier to handle in the event of a post vacation breakup.
Now, enough yapping from me. Check out these rad photo-taking tips and try them out on your next trip!
1. Use the angle and location of natural light to your advantage. Shoot into the sun, and play around with the lens flare for special effects.
In this example, you can't really see the guy's face, can you? That's the idea.
2. Show the back of your heads.
This style places greater emphasis on the destination or details in the background than the person who's sharing the scene with you.
https://www.instagram.com/p/B8ZQd9UAa82/
3. Set up a unique perspective shot, preferably one that positions the other person far, far away.
In this fun image, one half of the dynamic duo isn't very visible and looks more like a bite-sized snack.
https://www.instagram.com/p/BaGxw73DSaf/
4. Only show parts of your torso in the frame.
This could be two sets of feet hanging over the edge of a boat or cliff, or limbs intertwined in a hammock on the beach.
https://www.instagram.com/p/BirSD7ZnowQ/
Murad and Nataly Osmann have made a name for themselves by holding hands in their shots. Take a page out of their #followmeto playbook, and capture images of yourself holding bae's hand in front of stunning scenery or notable landmarks.
5. Pose in profile, and go for maximum landscape impact with a long-range 'tripod selfie', or ask someone (who looks trustworthy) to take your picture from a distance.
The key is to ensure facial features are not very distinguishable..
6. Up the wow factor by getting playful at sunset – in silhouette!
7. Suit up with protective gear and go deep.
As you can see, diving gear does a great job of masking identities when underwater.
https://www.instagram.com/p/BtWCtmjlXyE/
8. Use a direct overhead angle (maybe even a drone) to get a bird's eye view of your desired scene.
Additional tip: Accessories like hats help with anonymity.
https://www.instagram.com/p/BvrJCJyg33l/
9. Play the 'Instagram Boo' card and have him/her take lit pictures of you solo! Then to be fair, extend the favor too.
https://www.instagram.com/p/BtDnLjUFgin/
Do you have any other photography tips that have worked for you that I missed? Please share them in the comments.