When a country has close to 1000 miles of coastline, it makes sense for travelers to flock there to enjoy its abundant sand, sea and sunshine-infused bliss. But with tourism officials projecting that hotel rooms will grow to nearly 100,000 by the end of 2018, the destination has to offer fun, inland activities too, right? Well, the country in question – the Dominican Republic – definitely does that. And guess what? Dune buggy riding across dusty, country roads is one of them.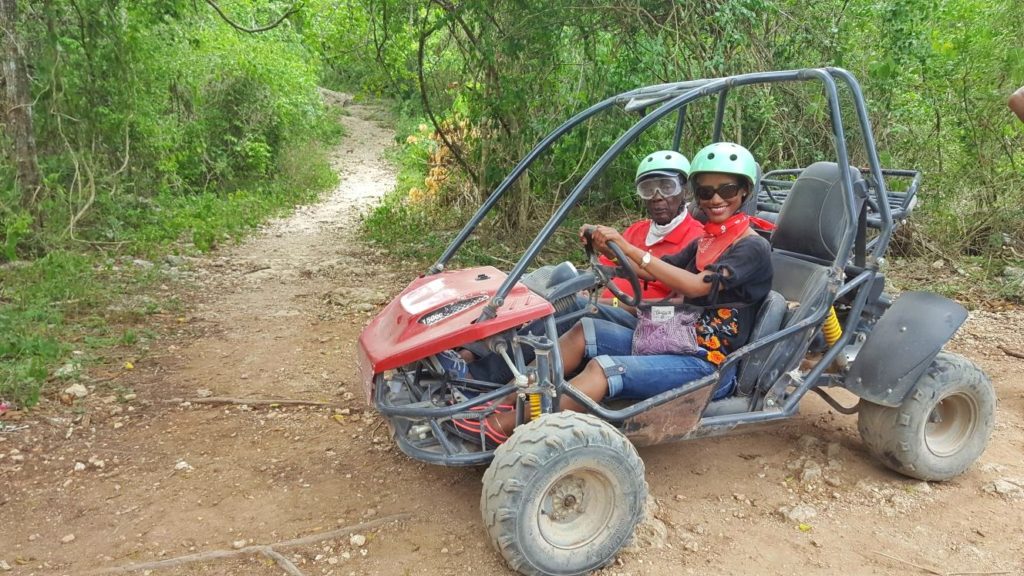 However, take note. There are a few things you need to know before you sign up for an adrenalin-pumping ride through deserted and winding back roads.
What to Wear
•  You are going to get really dirty, so do not plan to wear a cute outfit. Select clothes that will wash easily or old ones you can discard when you're done. That goes for shoes, too.
•  Ask your tour operator if they provide protective eye gear, and if they do not, plan to take your own. Believe me when I tell you that glasses and/or sun shades alone are no match for the pesky dirt particles that fly relentlessly at your eyeballs. From the moment you rev that buggy engine and press the gas to go, dust and grime assail you at every angle.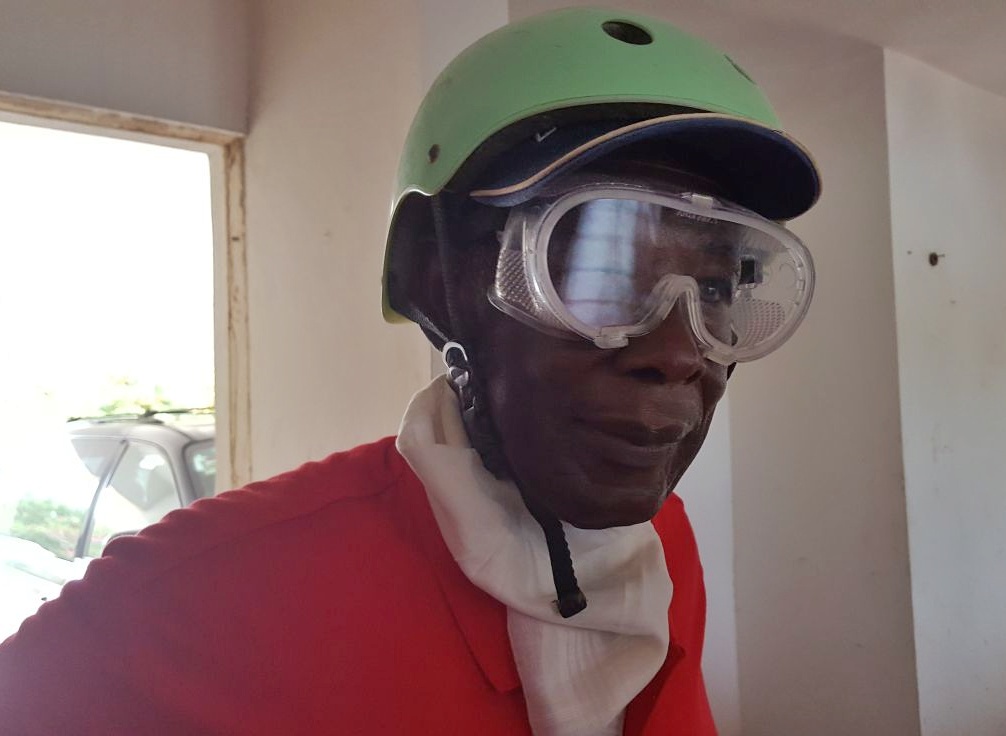 •  Whether you opt for a head wrap or a baseball cap, that's up to you, but covering your hair is a must if you hope to avoid ending up with it caked with dirt. Bear in mind that one of those fashionable Instagram-ready hats will not do. You'll be moving fast, and wearing a helmet, so your hair covering has to be something that fits well under it.
• Take a bandana-style buff or large handkerchief so you can cover your nostrils and lower half of your face. If you've ever watched a western, there's a reason that ranch hands and slick cowboys have those pieces of square cloth slung low across their necks. When the going gets tough, it covers their face and keeps the trail dust out. The same principle applies on this kind of outing.
What to Bring
•  Sunscreen is a must-have in any tropical, warm-weather country, and the Dominican Republic is no different. Even when cloudy, only about 20 percent of ultraviolet rays are filtered out, so that leaves a whole lotta room to get a serious sunburn if you don't lather up!
•  Depending on how far your hotel is from the starting point, I'd advise you to plan for water and a few healthy snacks to tide you over between meals. Most tours last about three hours from start to finish. There are no snack machines or stops along the way for food.*
•  Even if you pay for the tour with a credit card, cash will come in handy for tips (and small monetary gifts, if you feel so inclined). You may also want to buy action-packed photos taken by guides along the way, if you want to take home visual memories of the ride. Personal cameras and phone selfies are discouraged because you are likely to drop the equipment or veer dangerously off the road while trying to set up the perfect shot.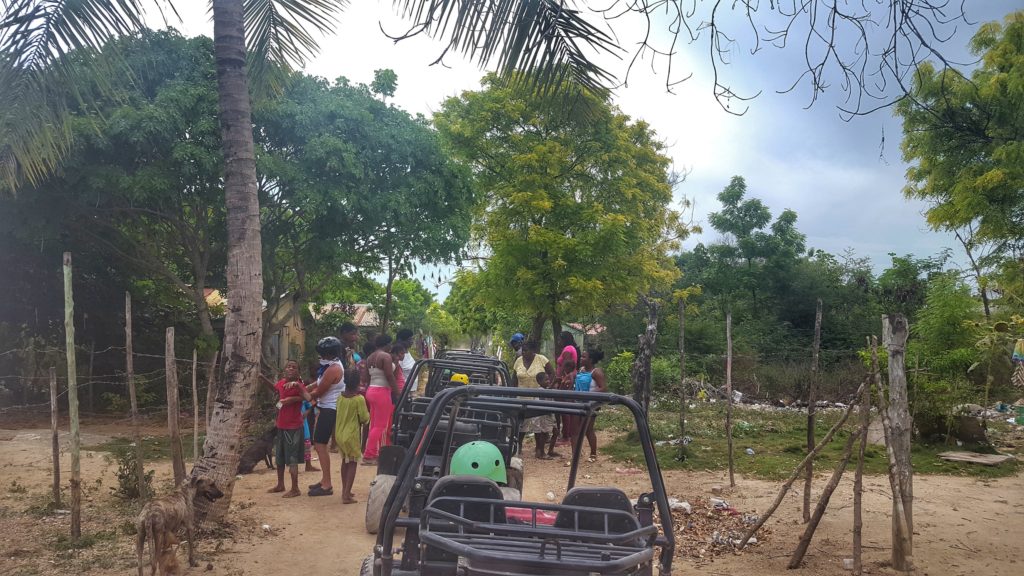 What to Expect
•  A bumpy ride, so leave anything that may get tossed or lost at your hotel.
•  Dirt, dirt and more dirt.
•  A choice between a single-seater and a double-seater buggy. The price varies.
•  Difficulty reaching the pedals if you are under five feet two. Ask for a booster seat, if needed.
•  Interactions at various stops along the way. My tour took us through a village, to a cave, and a local beach where you could meet and speak with locals. Do not be surprised if conditions look very different to what you are used to.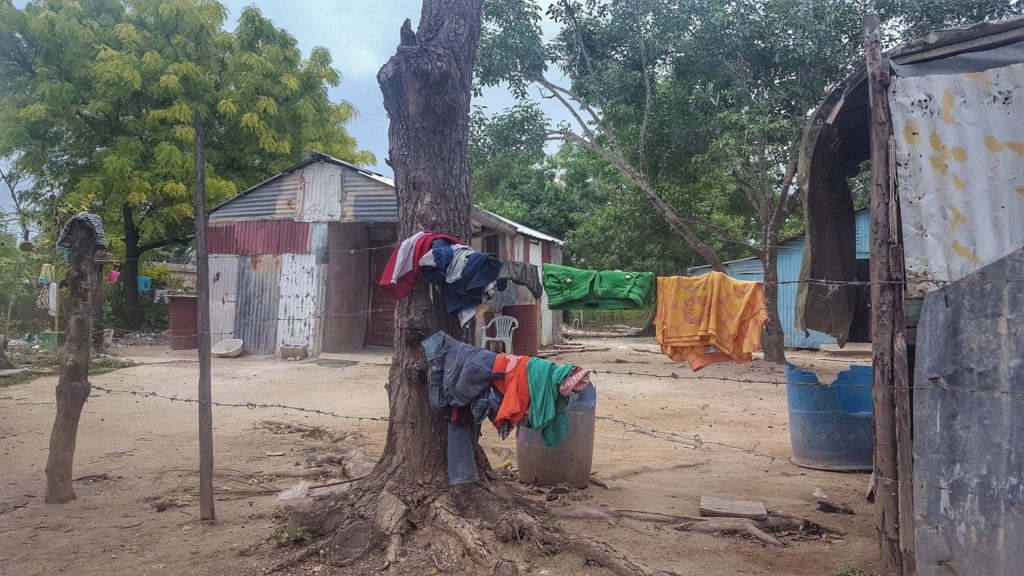 Final Two Tips:
1. People ride at various speeds, and the roads are pothole ridden. The trick is to leave a little distance between yourself and the vehicle in front of you in order to minimize the dust that gets kicked up by its wheels.
2. Don't be afraid to make friends with the kids!
_
*Note: I took this tour in La Romana Province, which is a little over an hour out of Punta Cana. Tour inclusions may vary depending on where you are and the provider.