I'd read that Mykonos was a party town. All the magazines, guidebooks and blogs I scoured for information prior to my trip described it as Greece's glamour island; a powerful magnet for the rich and the rambunctious.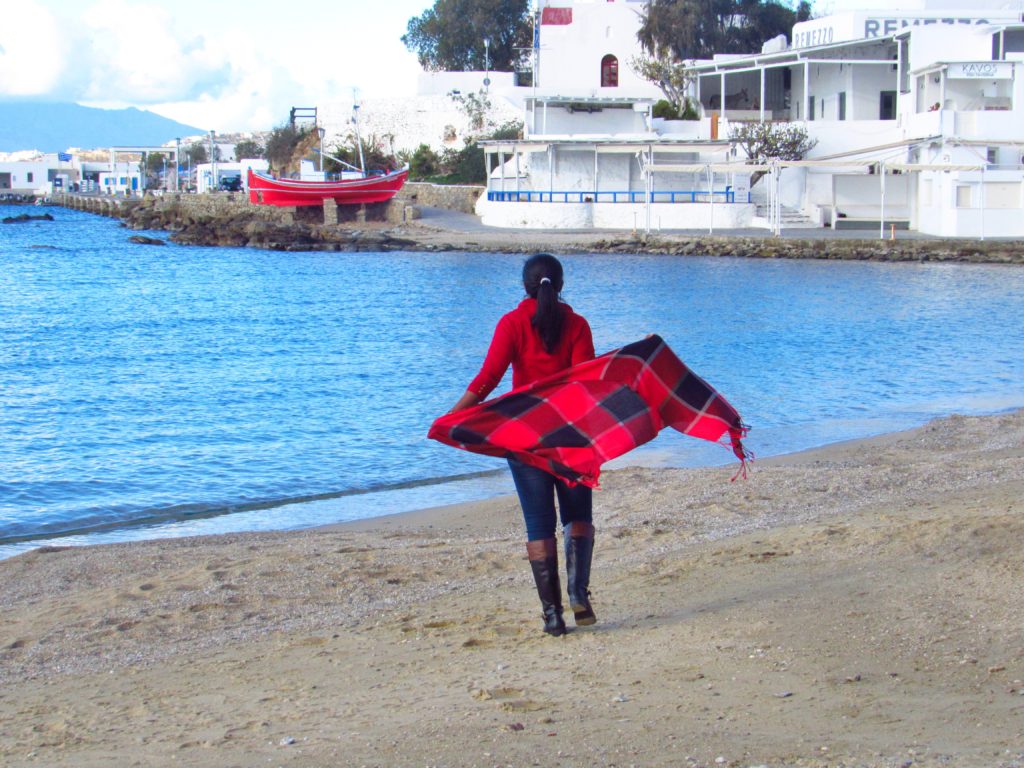 Oh, the stories were colorful! According to reports, in the busy summer season it is not uncommon to see global pop stars and A-list actors like Ariana Grande and Leonardo DiCaprio dancing barefoot in the sand at hip beach bars like Nammos. Nor is it out of the realm of possibility for guests staying in luxury villas to spot supermodels or internationally known DJs sipping fancy cocktails while lounging stylishly poolside and pretending they're not looking to hook up. (Needless to say, their faces are usually hidden behind outrageously priced designer shades, of course.)
But apparently, Mykonos seduces us 'non celebs' too. Vacationers of all ages and from all walks of life flock to it. Even budget-friendly cruise ship passengers – sometimes as many as 10,000 a day – are drawn to its sandy beaches, chic boutiques, world-famous restaurants, and legendary parties. The island just has that special je ne sais quoi. I'd liken it to a hyperactive pulse rate; the result of an overdose of pleasure-inducing activities combined with bucket loads of charisma. And a reputation for non-stop partying, day and night.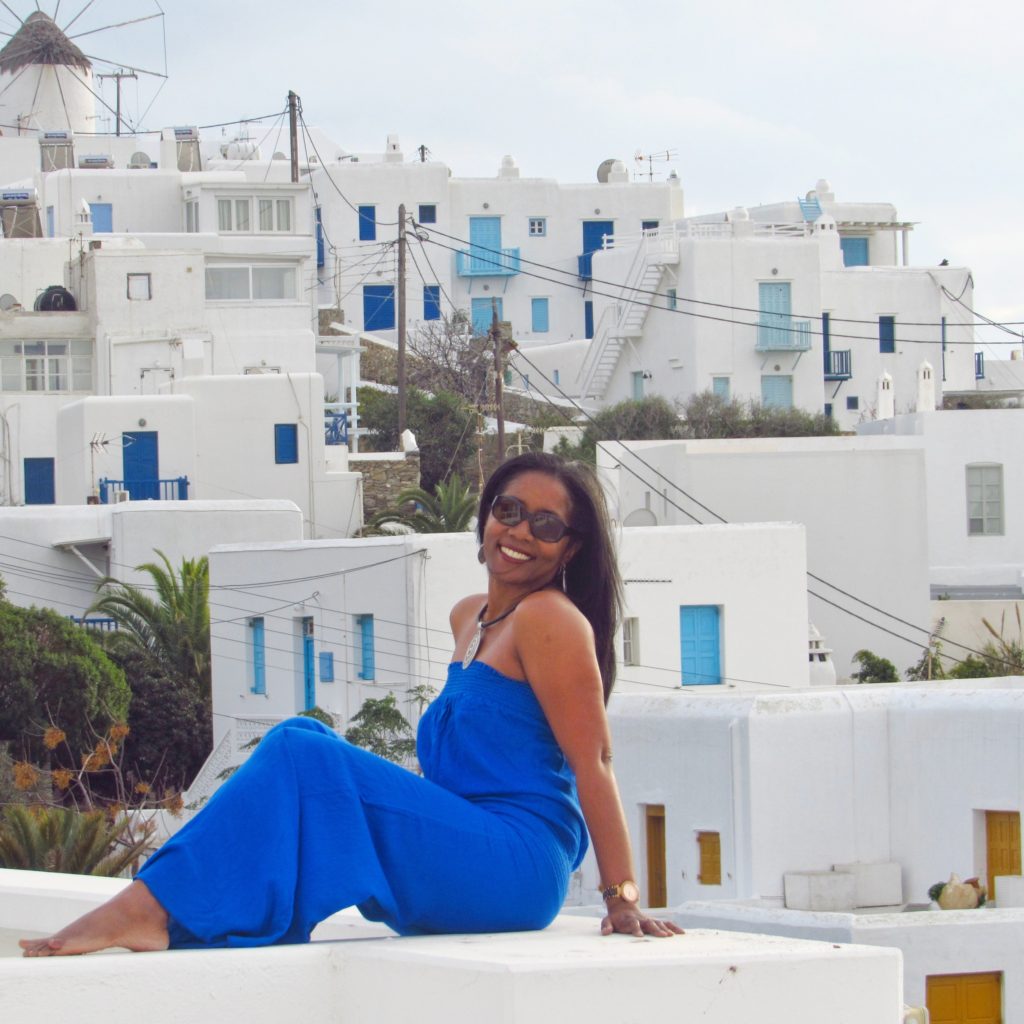 By going during off-season, I missed all of that – deliberately. I was spared the cruise ship crowds, the 24-hour party atmosphere, as well as the bronzed, swimsuit-clad, and annoyingly blemish-free bodies basking leisurely in the sun. And yet, I loved it anyway. Largely because I had my pick of more affordable hotel rates, any seat I desired on the ferry to and from Athens, no sweltering summer temperatures, reservation-free dining, and all the time in the world to set up and take my photos.
These are some of my itinerary suggestions:
Lose yourself in the town of Hora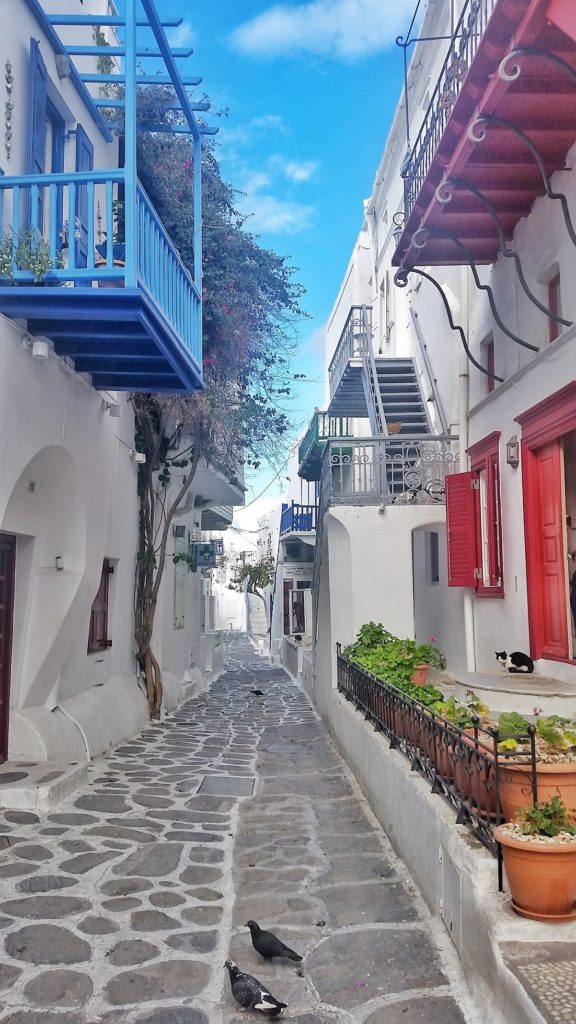 Hora, otherwise known as Mykonos Town, is a labyrinth of narrow streets with a meandering layout that unveils new discoveries around every other corner. Built like a maze to confuse pirates, it's a modern day treasure trove of restaurants, bars, and upscale shops that sell a range of merchandise – anything from fashionable outfits to exquisite jewelry. The white-washed houses and vacation villas that are trimmed with either blue, red or green window shutters are utterly charming, and the vivid bougainvillea or geranium blooms that drape their balconies enhance their whimsical appeal.
Visit Little Venice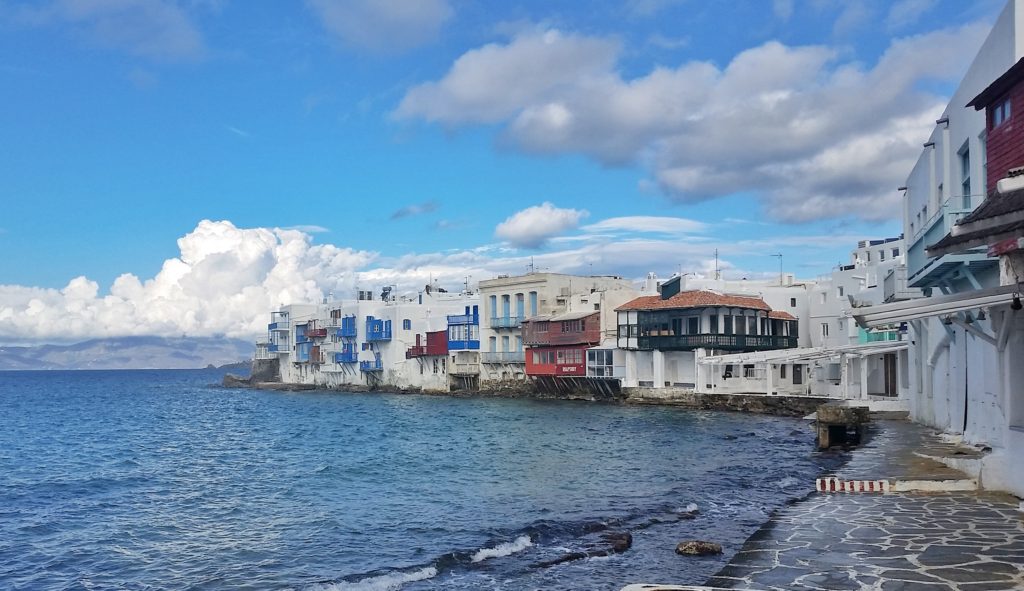 Named after the famous city in Italy, Little Venice is perched on the most western part of the town where the buildings cling precariously to the edge of the sea. [Fun fact: Customers sometimes pull their boats up to bar windows for service.] There, you also will find art galleries, cozy cafés and small museums that document the island's history. Two options you can consider are the Archaeological and the Folklore museums.
Swim, dive or sunbathe on a few of the many beaches
Head south for the most popular beaches, some of which include Kalamopodi Beach (Paradise), Plintiri (Super Paradise), and Ornos. But there are several more to choose from. In fact, I heard there are about 25 beaches on the island.
If you also enjoy being below the water, there are interesting caves, walls and wrecks waiting to be explored by diving enthusiasts. Before you go, check to see which dive operators are currently based on Paradise, Lia, Kalafatis and Agia Anna beaches.
Go to see the windmills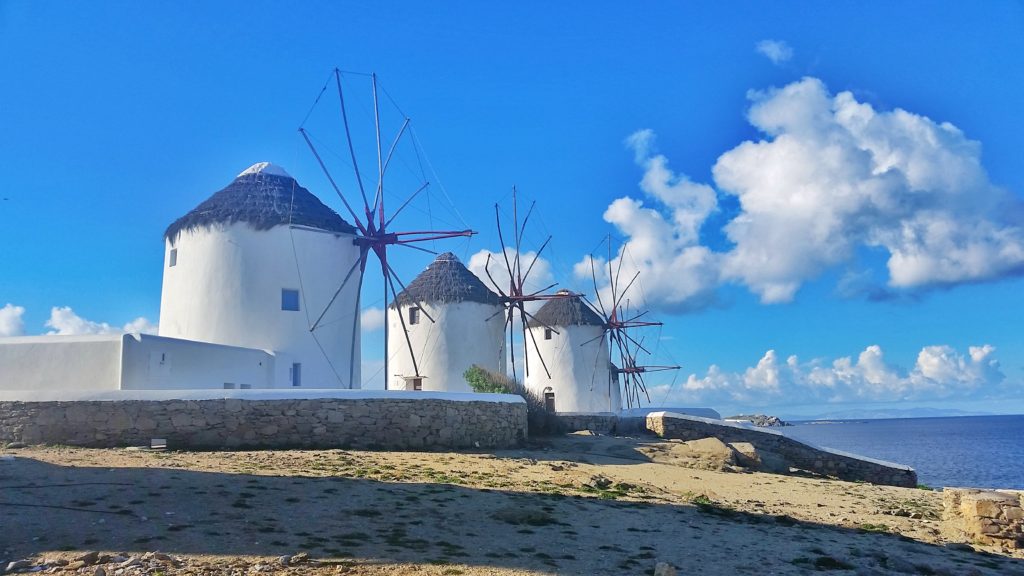 The Myloi complex, a grouping of windmills that grace a gently sloping hill to the southwest of the island, is a must-see. Only seven of the original 10 are still standing, and although none of them generate power to grind grain any longer, they are a strong visual reminder of the region's history, and form part of the iconic landscape for which this coastal village is known.
Take pictures of the Church of Paraportiani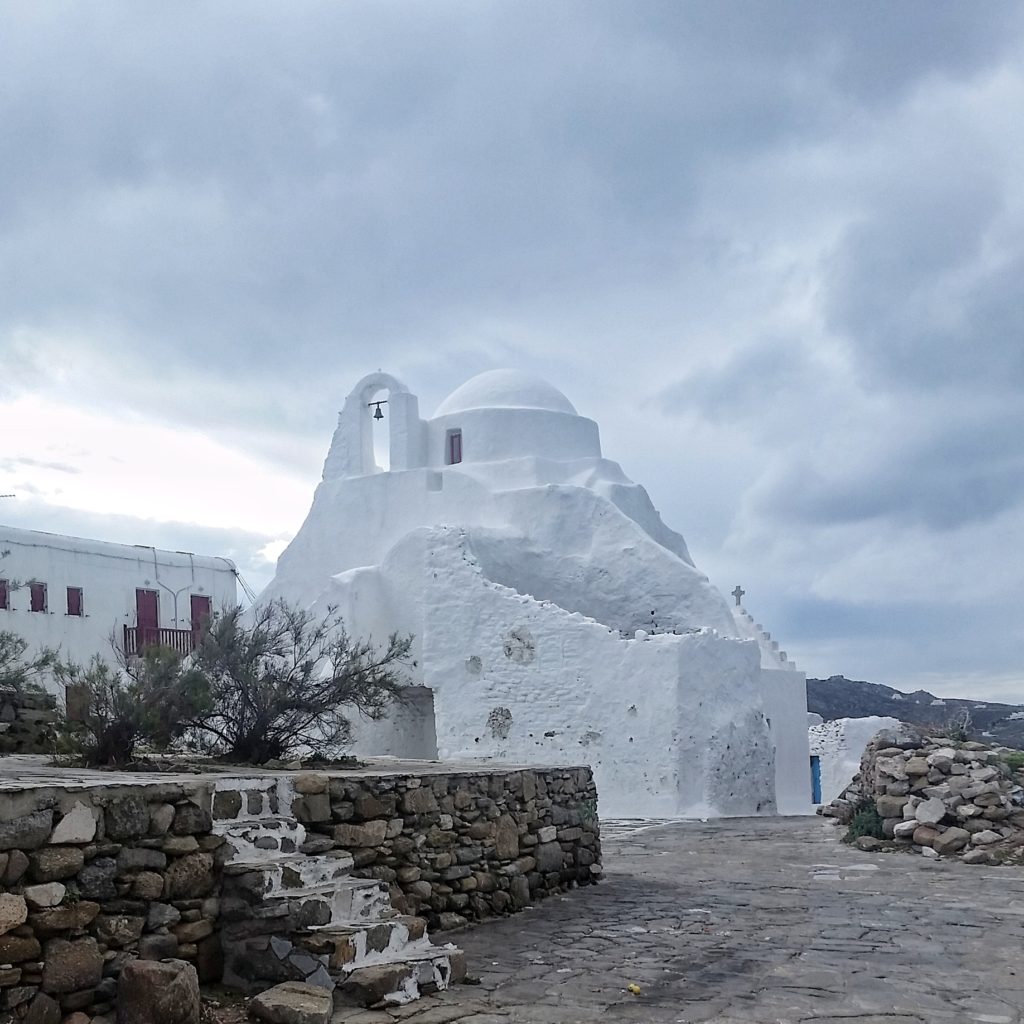 I have no way of verifying it, but all the locals are convinced this is the most photographed church in the entire universe. [You would expect that to be the Vatican, right?] Technically, the structure is an amalgamation of five small churches that were built on top of and next to each other. That unconventional construction method resulted in an unexpected pyramid shape that, on a cloudy day, blends seamlessly into the skyline.
Sample the local food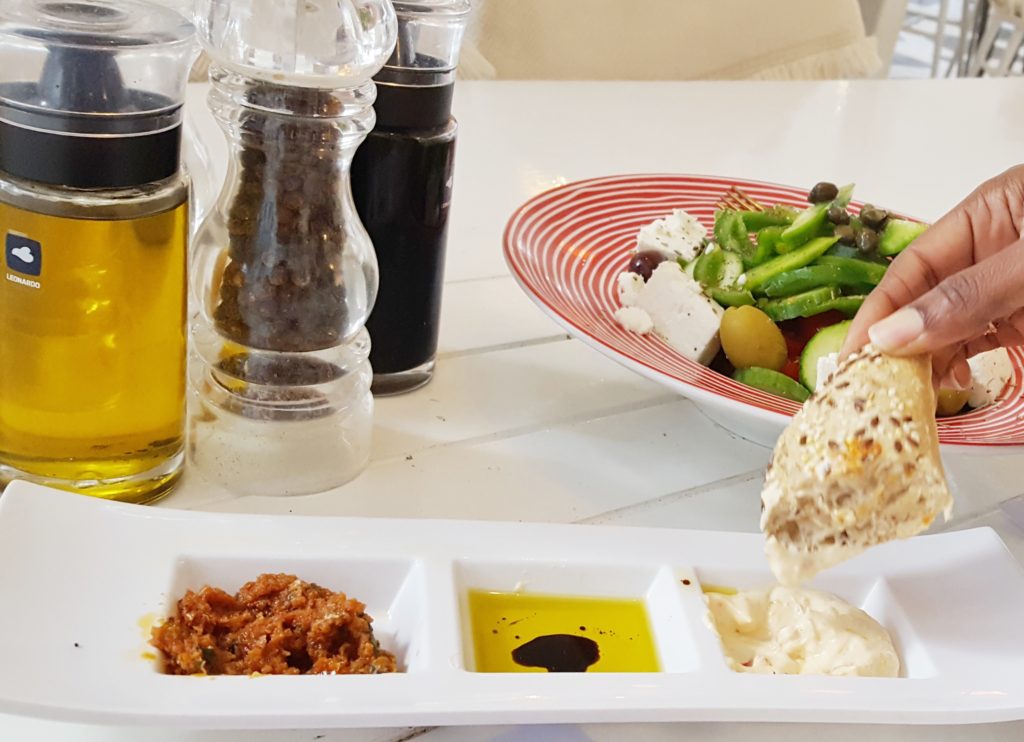 No trip to this cosmopolitan isle is complete without a stop for fresh bread or sweet treats at Aptonoieio, a local bakery and pastry shop tucked away on one of the side streets next to Hotel Terra Maria. It's where many of the locals gather to exchange greetings over their morning loaves and catch up on news. I was also encouraged to try kopanish (a spicy cheese), melopita (honey pie), and kremydopria (onion pie) – none of which actually happened, to be honest. However, among other things, I did have a traditional Greek salad! Restaurants along the waterfront that stay open in off-season include Allegro, Music Port and Raya.
Get front row seats to the spectacular sunsets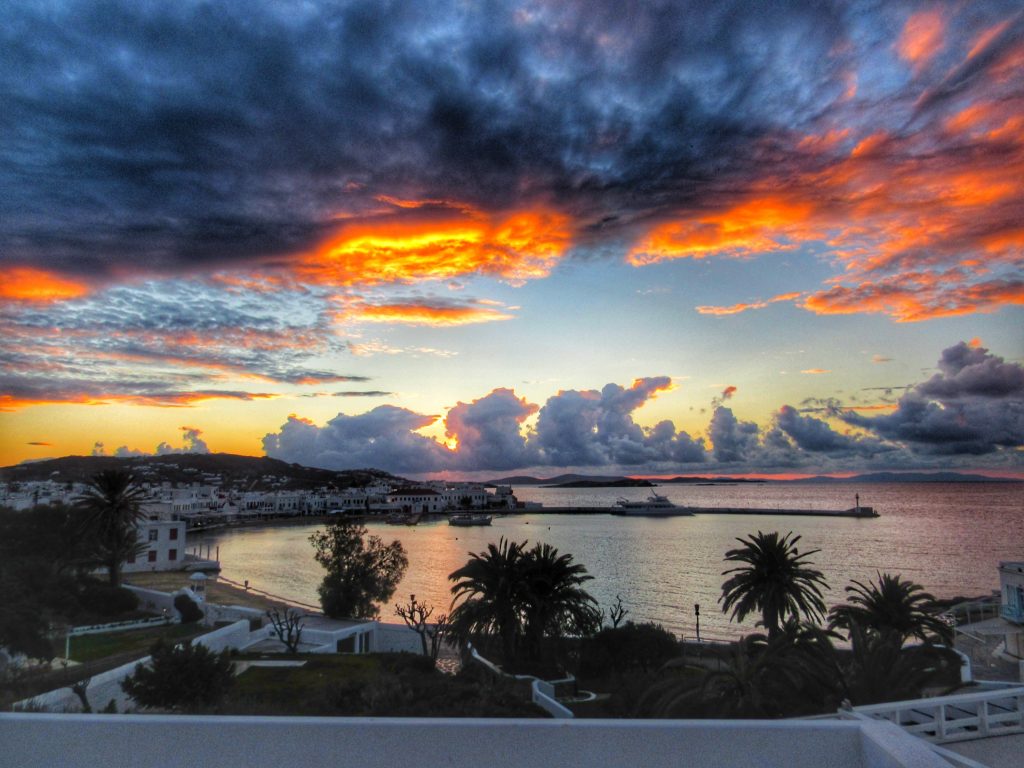 Watching the sun slip below the horizon over the shimmering Aegan Sea is almost like a rite of passage in Mykonos. Terraces and bars on the western side of the island provide the best vantage points, but the free pink, orange, and sometimes tinged with purple light show is visible from many locations. Exact sunset times vary depending upon the time of year and can occur anywhere between 6:30 to 8:30 pm. Recommendations include the waterfront area, 180 Sunset Bar and Cavo Tagoo.
And there you have it, my friends. Enjoy!
Editor's Note: 
In case you're wondering about accommodations, options vary from high-end hotels to budget-friendly hostels. I stayed at the Leto Hotel which is 3 minutes from the waterfront area, a comfortable walking distance from many of the main sites mentioned, and around the corner from a busy taxi stand. The rate includes daily continental breakfast and WiFi. Room layout is a bit unusual as the structure is built on an incline, but if you request a superior, sea view room, you should be fine. Tip: The beds could be a little more comfy, but they'll do.: