Over the years, I've talked to a bunch of friends, family members and colleagues about my solo jaunts, and those conversations have made me realize safety is THE biggest concern for women considering taking a trip on their own. Now, while rational fear of the unknown is understandable, I think the debilitating dread that keeps some people in a perennial state of inertia can be avoided. In my experience, reaching for your dreams involves pushing through your fear, not caving into it.
So, if you're reading this and anxiety is holding you back from taking that dream trip alone, don't let it! The best moments and memories happen when opportunity meets preparation. If you're feeling scared or uncertain about making that reservation, don't worry, I 've got you. Below are 9 simple safety tips to help you prepare for your first solo getaway.
1. Do your homework ahead of the trip.
Spend time researching destinations by surfing the internet to find news and travel articles about the safest neighborhoods and modes of transportation in each. Being aware of things like local dress codes and customs in advance of arrival helps you to be better equipped as well.
2. Try to arrive in your destination during daylight hours.
Plan to do this if you're visiting someplace new, and especially if you don't speak the local language. Things like signage visibility, distance and depth perception change after dark, all of which can impact your ability to follow directions and your ease of mobility. Also, sometimes service counters at airport or city information desks go on skeletal shifts or are not manned after regular business hours, which means it's harder to ask questions of designated officials.
3. Do not be penny wise and pound foolish.
That's a very British Commonwealth way of saying 'stop yourself from penny pinching' for the rock-bottom, cheapest accommodation if the location or building gives you the creeps when viewing it online (or when you get there). To help with place selection, avoid looking at hotel videos or images only. Use traveler-sourced photos and reviews on sites like TripAdvisor and YouTube too, and check others like HotelTonight if you need to make an on-the-spot booking change.
4. Pack a doorstop alarm or door wedge to secure your room.
Since reading about one woman's horrific attack in her locked hotel room, this precaution will be a 2019 addition for me, for sure. Whether you're staying at an Embassy Suites, a 5-star property, or an Airbnb, you never really know how many people have access to your room key or how foolproof the deadbolt is. If you can take anything that prevents the door from opening inwards or gives you fair warning that someone is trying to enter, it's worth the extra investment in my book.
If you're not sure where to start looking for one, don't worry. I wasn't either. Thankfully, two gadgets came highly recommended from a FaceBook group of frequent travelers I'm a part of. The first is a called a Door Jammer, and the other one is a Wedge Door Stop. You can click on the images below to find them on Amazon, and the great thing is, neither of them is priced to break the bank!
5. Always be observant of your surroundings.
Even though you're checking things out on the sly, walk around confidently, not tentatively, and with a sense of purpose. Most crooks are looking for easy targets and can sense fear.
6. Try to blend in.
Dress modestly so as not to attract undue attention. If your GPS or directional apps don't work without WIFI or data, try not to pull out maps that mark you as a tourist in public locations. Write out directions before you leave your hotel instead. Also, join day tours when you can to sightsee within the safety net of a small group.
7. Know when to stop sipping those margaritas and martinis dah-lings.
Not going overboard with your alcohol intake is a good guideline for life in general, but it is even more important for a woman on vacation alone. A good night out is a good night out. However, it's no secret that excessive drinking clouds our judgment and weakens our reflexes, which makes us vulnerable.
8. Avoid posting to social media in real-time.
In this world of prolific social sharing, I know this might be the hardest bit of advice to swallow, but it just might be one of the most crucial ones to know. To a certain extent, Facebook check-ins and live Instagram Stories are like flashing neon lights. Think about it. If you're by yourself and are tagging your exact location in real-time, anybody with a phone or device attached to the internet can find you and show up where you are. Wait a day or two to post that picture at your favorite attraction or restaurant find, and if you absolutely must show your friends how much fun you're having, tag the country only, not the exact city or hotel you're in.
9. Leave a copy of your itinerary with someone trustworthy.
And check in regularly with a family member of friend at home. I always give my family a list of my flights and the hotels I'm staying when I take off alone. Also, I don't have an international phone plan, but I only stay at hotels with free WIFI so I can hop on WhatsApp to call or text home FREELY and REGULARLY.
______
I hope these tips help alleviate some of your fears. But if they didn't, you can read this related article for more inspiration: The benefits of traveling solo.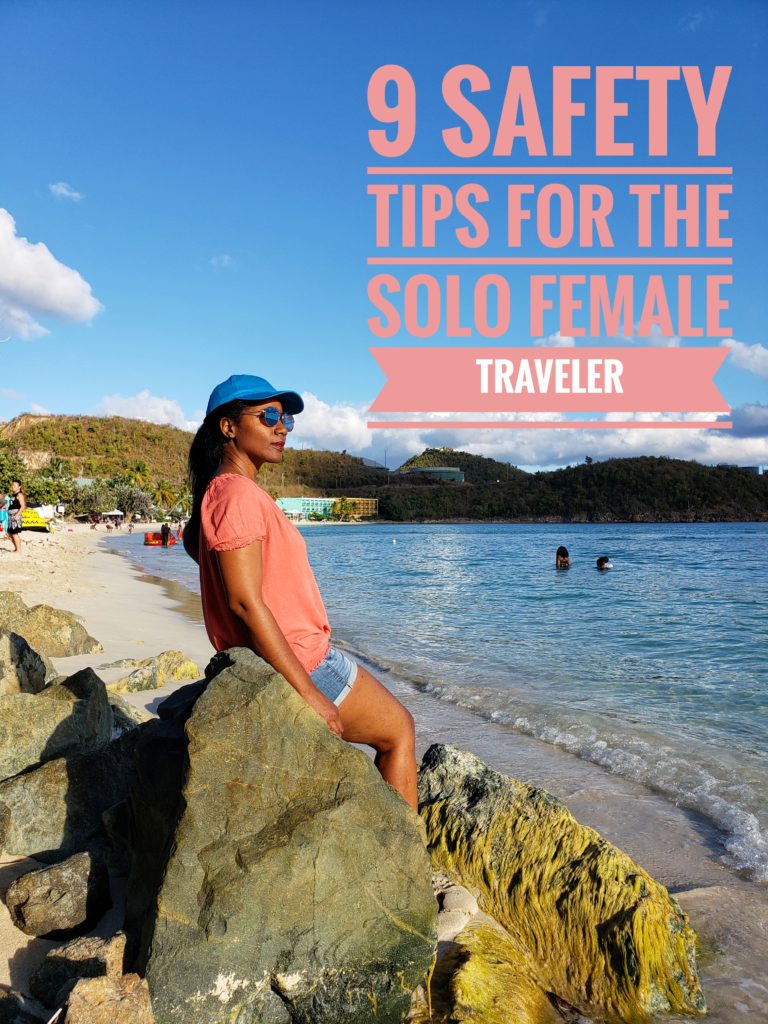 Disclaimer: The Amazon product links included in this post are affiliated, which means I have the potential to earn a tiny commission from qualifying purchases.