World: "Hey Mac, I'm thinking about planning a luxury vacation. You down?"

Me: "Oh, you know I'm always ready for a quick getaway! But listen, I've got bills coming outta my ears, so I can't be booking anything too expensive right now. We better be ballin' on a budget or I'm out, ok?"
Sounds familiar? The pressures at home are driving you all kinds of crazy. At work, you find yourself stuck in that tiny cubicle trying to respond to client emails or make sense of the latest monthly report. And through it all, the thought of pampering yourself to a few days off at an upscale beach resort or a cliff-hugging hideaway is all you can think about. But over the tapping sound of the keyboard and the dull hum of the freezing air conditioning unit, your wallet is telepathically reminding you that its buying power is weak. Trust me, I know. That kind of mental torture can be daunting.
Well, what if I said you can take a nice vacation without breaking the bank? Ballin' on a budget is definitely possible – if you know a few tricks of the trade.
Feel free to use these tips to get a taste of the luxury life without any accompanying slave-to-your-credit-card strife.
Shortlist countries with a favorable currency exchange rate
Other than flight and hotel costs, there are a ton of other expenses you'll need to cover in the vacation budget. So, in order to take care of things like local transportation, food and drinks, attraction entrance fees, souvenir shopping and entertainment, it helps to select countries with an exchange rate that allows your dollar to stretch further.
If you live in the US and budget is a consideration, you'll get more bang for your buck by going to Mexico, Thailand or Jamaica, for example, because in those countries you can buy more with less. In contrast, flying to places like the UK or Cayman Islands where their currencies are stronger than the US dollar would significantly restrict your purchasing power. Don't get me wrong. They're both great places to visit; just not on a strict budget.
Useful tool: If you're unsure where to start, the XE Currency Converter is a great site to check exchange rates before your next trip.
Travel in off-season
After you've shortlisted your possible destinations, the next step is comparing rates for airfare and accommodation in each. Time of year will make a difference, and at this point, your purchase decision will be impacted by demand and supply. Rates are always highest during peak season – the months when most people travel to a set location – and when demand falls, hotels and airlines have excess rooms and seats they need to discount to fill. Because of that, you should aim to travel in off-season.
Useful Tool: Peak season and off-season vary by locale, so it can get confusing. However, an interactive map by LastMinute.com makes it easy to see monthly variations at-a-glance. Red indicates peak season, the blue-green color represents off-season, and yellow stands for shoulder season, which is in between. (A snapshot of January is shown below).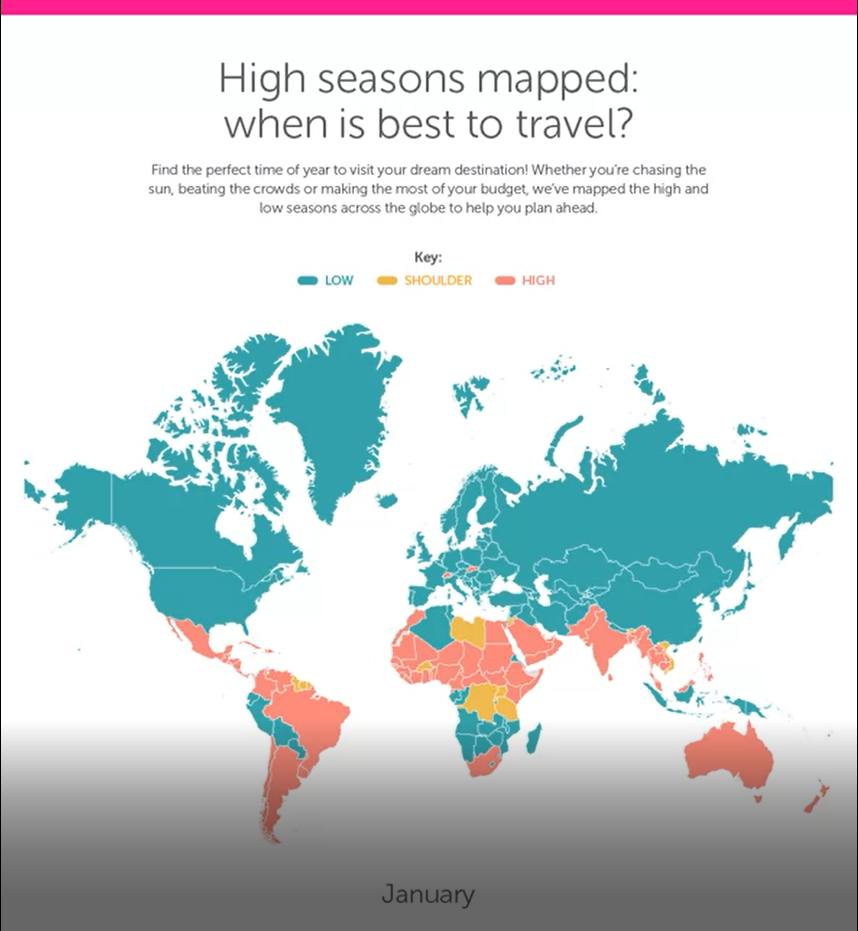 Go with your squad
There are some things solo trips can do for your psyche, but for everything having to do with finicky finances, there's the squad. Without a doubt, sharing the costs of accommodation allows you to stay in a higher caliber property than you would be able to book on your own. This travel hack works for luxurious hotel suites that allow triple or quad occupancy, but it is particularly useful in high-end Airbnbs, villa or bungalow situations where you can bring friends or family and spread out comfortably in the space.
Useful tools: If you end up splitting more than the cost of accommodations, there is no need to quibble about who owes who. Splittr and Splitwise are two free apps that help you track and balance trip expenses, and they are available in multiple currencies.
Keep it short and sweet
One of the best ways to curtail costs, is to go all out over a shorter time period. For example, if lodging costs $400-500 per night, a three- or four-day trip works out much cheaper than a week at the same price. You also end up spending less on attractions, taxis, meals and beverages.
A few luxury rental sites to consider: Boutique Homes, Villas of Distinction, Sunset Homes Anguilla.
Splurge wisely
Rather than blowing cash at posh boutiques, or on elaborate three-course meals, spa treatments and pretty, umbrella-garnished drinks every minute you are away, choose your splurges carefully. You see, the key to this Ballin' On A Budget life is being able to travel and have a good time, with limited funds. So, use that kitchen facility at the vacay crib to make daily breakfast, go shopping at the grocery store to have snacks for lunch, and then dress up and go all out on a dinner and/or fancy drinks at a ritzy venue. Sometimes you don't even have to stay at a five-star to go eat or have drinks at the property. And luvs, when you do, don't forget to take the all-important fly photo for social proof!