Are you planning a trip to Mexico anytime soon? Well, if you're headed in the direction of the popular Riviera Maya strip and are planning to stay somewhere between the Yucatan Peninsula and the coastal town of Playa Del Carmen, there are three ruins you absolutely must see. Grab a pen and note pad to write these names down right now. They are: Coba, Tulum and Chichén Itzá.
COBA
Of the three ruins mentioned, Coba dates back the furthest in history and is estimated to have been built and first inhabited between 50 BC and 100 AD. Although much of it still isn't excavated, its intricate system of ceremonial roads and multiple pyramids (including the tallest in the Yucatan – Ixmoja – at 138 feet), is an impressive archeological find nonetheless.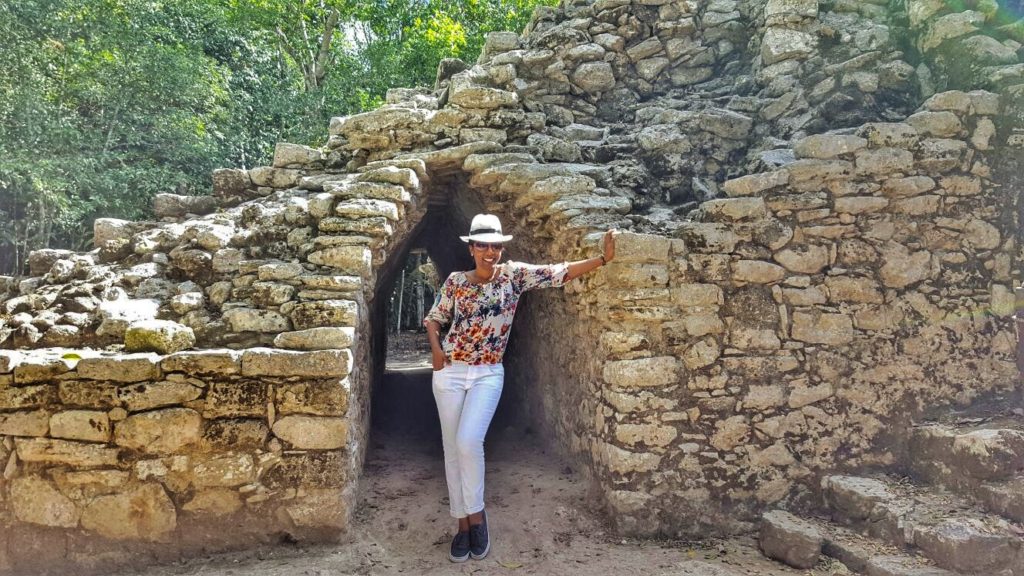 Tips: This site doesn't attract as many visitors as Chichen Itza or Tulum, so you can  still climb some of the structures which gives you a totally unique experience. [I ran out of time and didn't get the money shot on top of Ixmoja.] Coba is home to more than 6500 structures, so schedule at least 2.5 hours to explore the grounds by foot. If you are traveling with seniors or someone who can't walk for long distances, you can rent a bicycle for him/her, or pay for a Mayan Taxi (a bike with three wheels and a seat up front) for an hour-long tour. That makes it easy!
TULUM
Tulum, largely believed to be the best preserved coastal Mayan site in Central America, is where the locals and the Spanish conquerors first met. (We won't talk about how that encounter ended). This enclave served as an integral trading port for the Mayans, and it sits atop a spectacular cliff that overlooks a dramatic beachscape.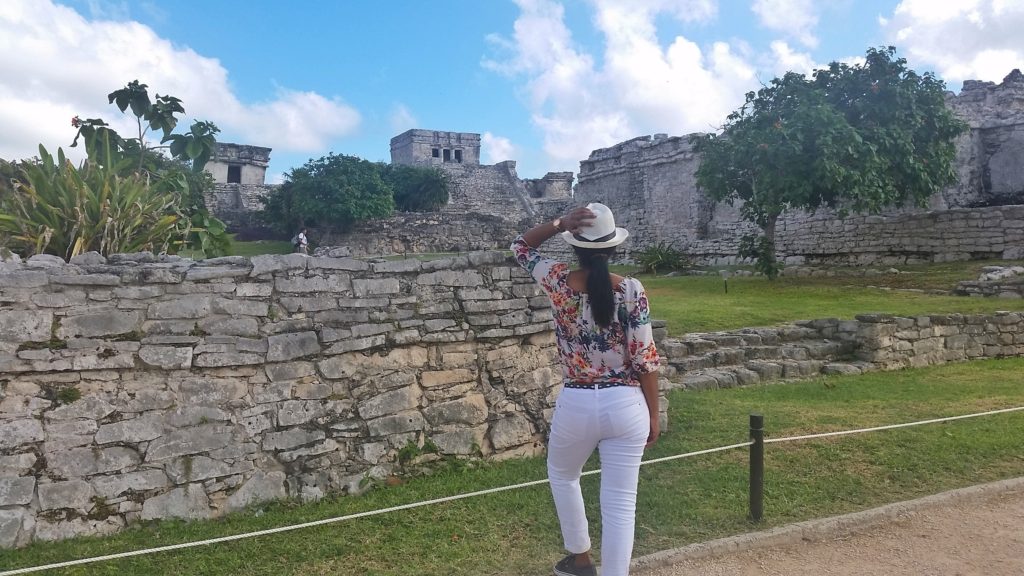 Swimming or getting your feet wet in the warm, turquoise water is a must! You can't miss the focal point – the pyramid El Castillo – that juts out majestically against the blue skyline. Before you leave, look out for the Temple of Frescoes which was used as an observatory for the sun.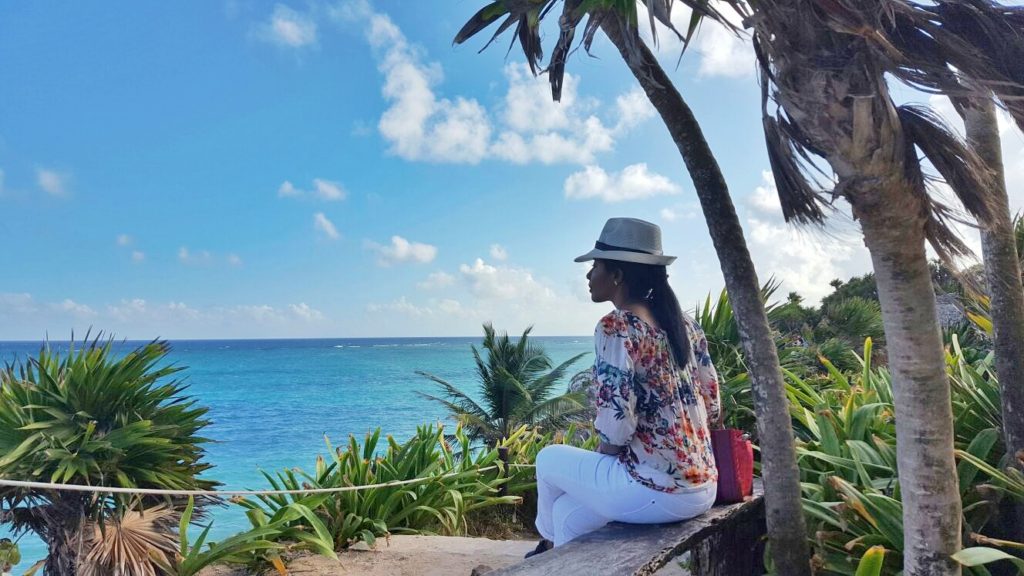 Tip: Pack a swimsuit and a change of clothing so you can take a dip in the warm Caribbean water lapping against the shoreline below the ruins.
CHICHEN ITZA
Chichén Itzá, which means source of enchanted waters, is the feather in Mexico's cap.  Listed as one of the Seven New Wonders of the World, its Kukulkan Pyramid is an imposing sight to behold. I learned there were 365 steps in total around all four sides.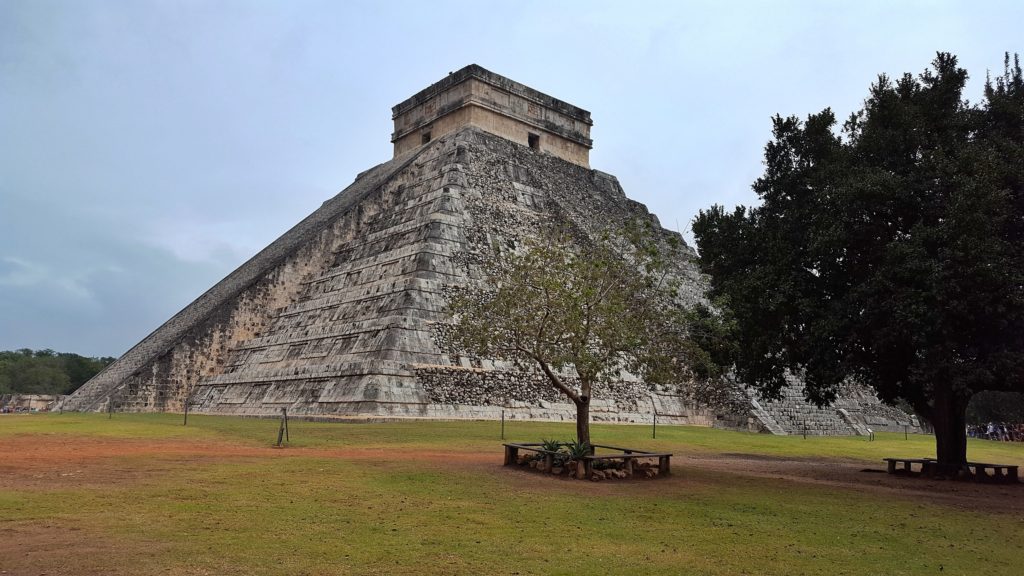 Due to it being one of the most photographed sites in the region, if you're like me, you'll be pleasantly surprised to learn there are other imposing and historically significant structures in the sprawling complex. The differing styles of architecture cover almost a 1000 years of Mayan urban industry.  Plan to view the pyramid, the ball court, and a sacred cenote with a ghastly history of human sacrifice.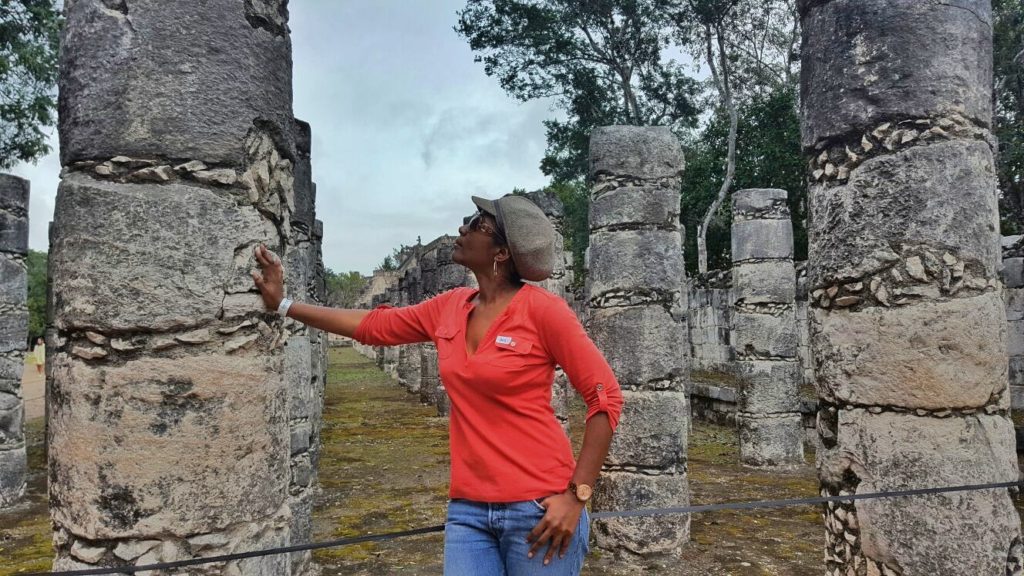 Tips: This attraction is one of the most visited sites in Mexico, so plan to arrive early (8 a.m.) to avoid the crowds.  Also, take a hat and wear comfortable walking shoes.
I hope you enjoy visiting all three sites as much as I did!
_______________________
You can read more about my Mexican adventures here.