I can't wait to tell you about the day I ate my way through the streets of Cartagena! But first, please give me a minute to stroke my tummy while I reminisce about the explosion of flavors I experienced during that palate-friendly walking tour.
Yum, yum. BURP.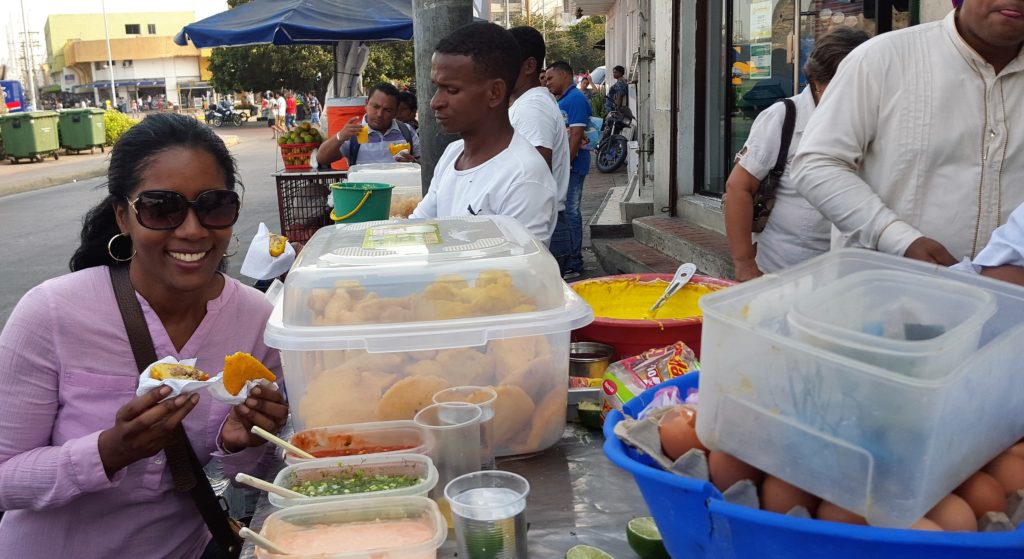 Even after I booked the excursion, I couldn't explain what had come over me. I have a very delicate stomach that doesn't hesitate to let me know when I've ingested something that doesn't go down well. So naturually, I tend to be careful about my food choices when I'm away from home. But all that caution – born of sometimes painful and/or embarrassing repercussions – flew out the window when I visited the vibrant seaport town that dots Colombia's northern coast.  Cartagena's fusion of Latin, Caribbean and African cuisines were inspiration enough to defy my fears and make me dive tongue first into the unknown.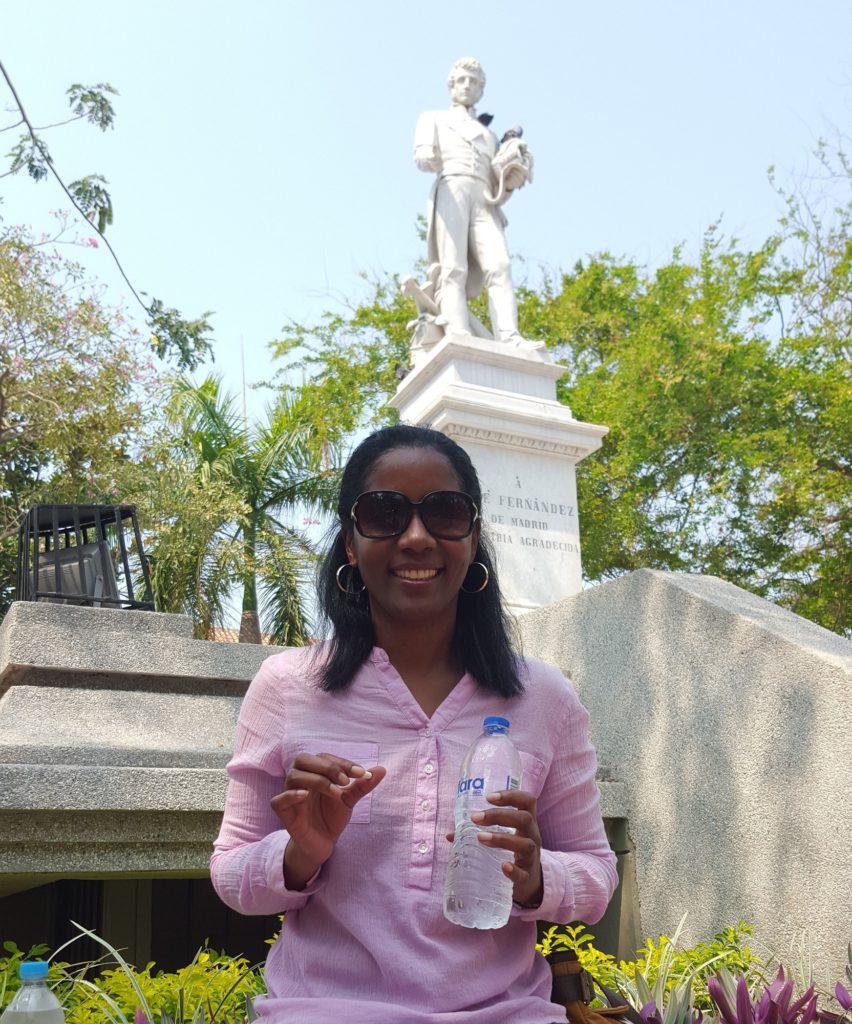 There was a variety of food carts, trucks and stands scattered throughout the colorful streets of the Walled City and neighboring towns like Getsemani. At almost every corner, vendors sold a wide range of foods that ranged from deep-fried starches to fresh fruit while the locals ignored us tourists and carried on with everyday life.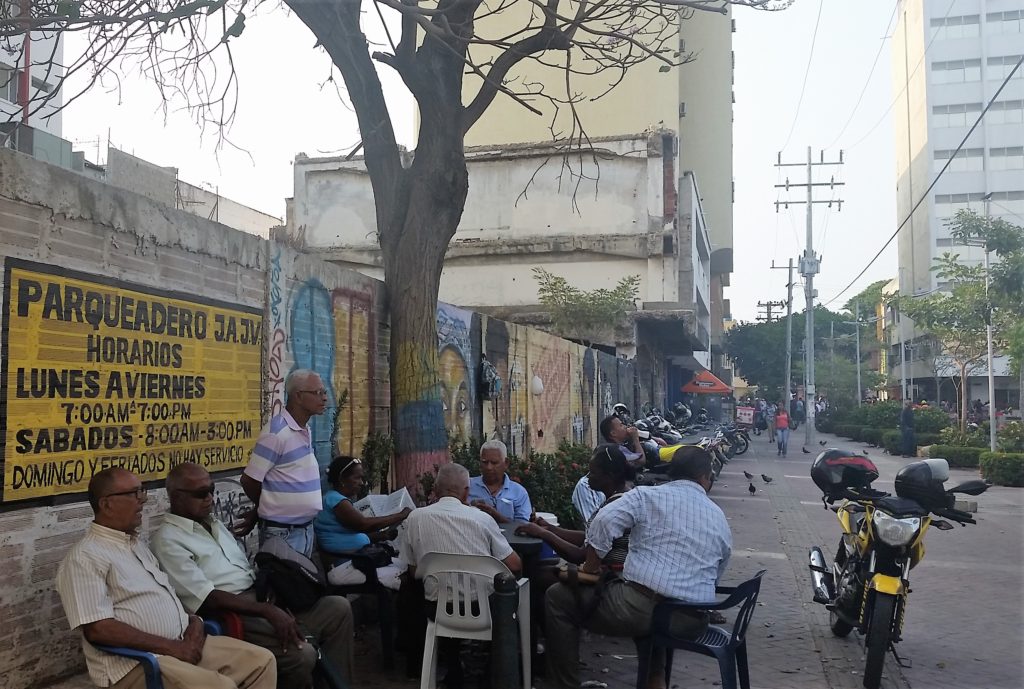 And one of the best parts of the experience was the fact that I could relish the delicacies while learning about local culture and folklore.  As far as ambiance goes, eating mango biche while walking past refurbished, colonial-style mansions and admiring multi-hued looms springing from second-floor balcony gardens, wasn't too bad either.
I started the tour at the Statue of Jose Fernandez by the Plaza Fernandez de Madrid. It was across from The Cocoa and Chocolate Museum.  I just had to pop inside for a little visit before the other members of the group arrived.
Arepas – These are flatbreads made of white or yellow corn and stuffed with cheese and butter.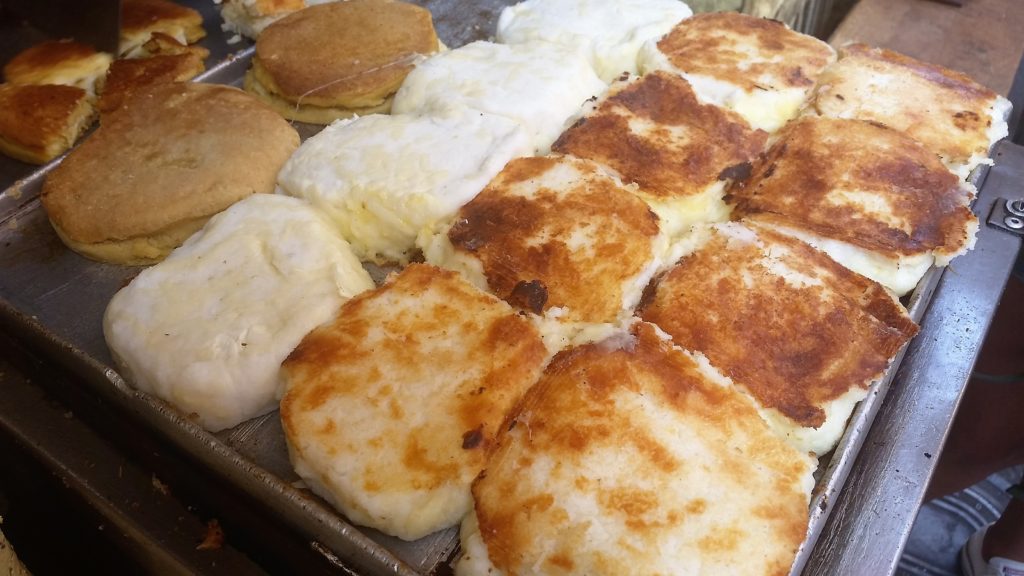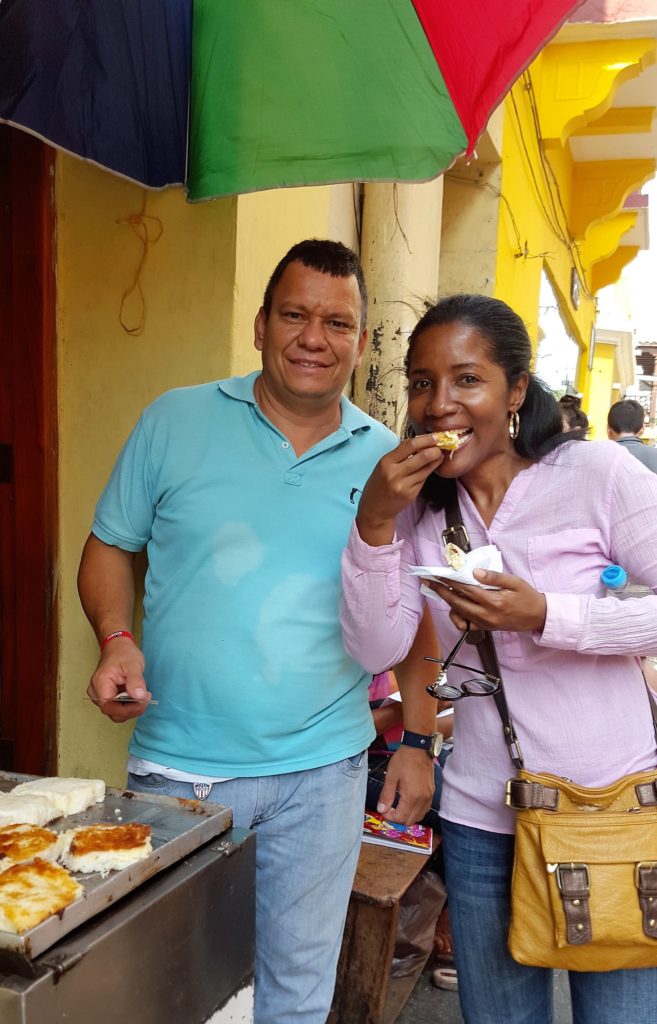 Patacones  – As an island girl, I grew up eating friend green plantains accompanied by different proteins for breakfast or supper, but the Colombian version had a different twist to it. They were soaked in a salty, garlic-flavored marinade first, fried to a crispy texture and devoured as the main meal.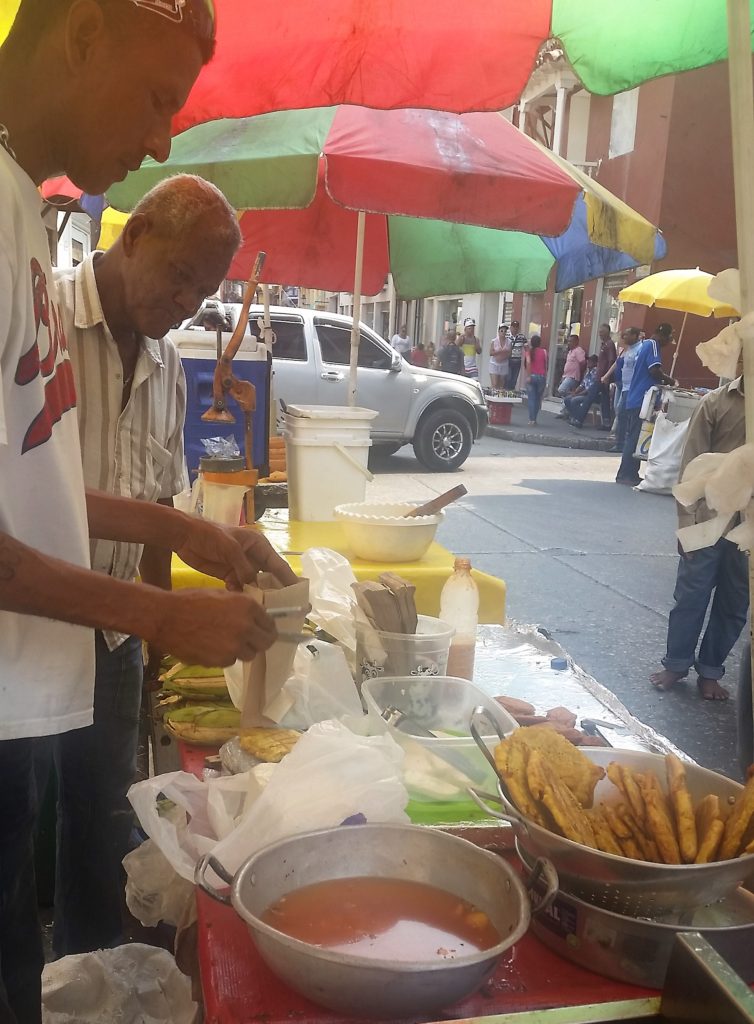 Mango Biche – These are thin slices of unripe mango soaked in lime juice and seasonings, prettily displayed like extra-large fries in a cup. It had an unusual flavor; equal parts tarty and savory.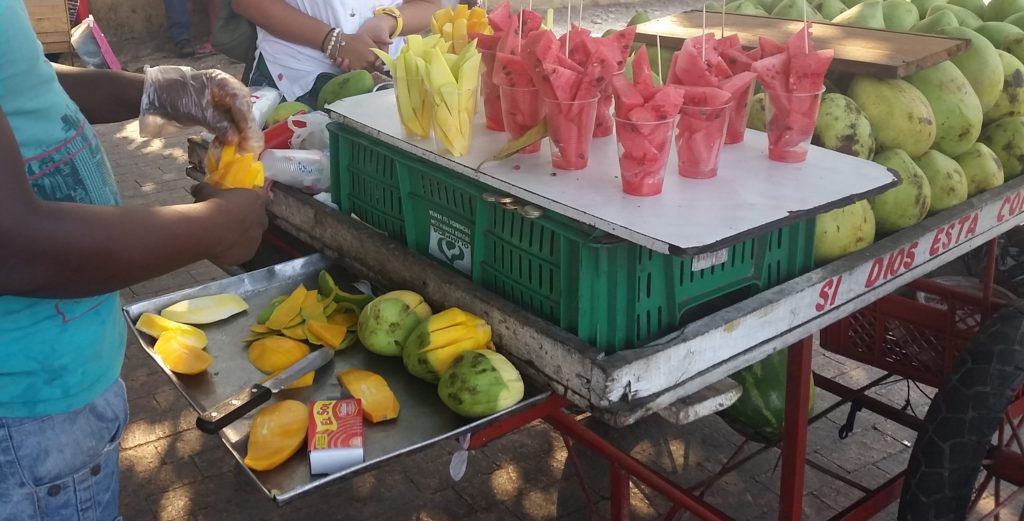 Empanada de huevo – Empanadas are made of corn and stuffed with beef and egg, with a sudeo ( white cream sauce) on top. We learnt these snacks are the scrumptious result of Latin, African, Syrian and Lebanese culinary influences.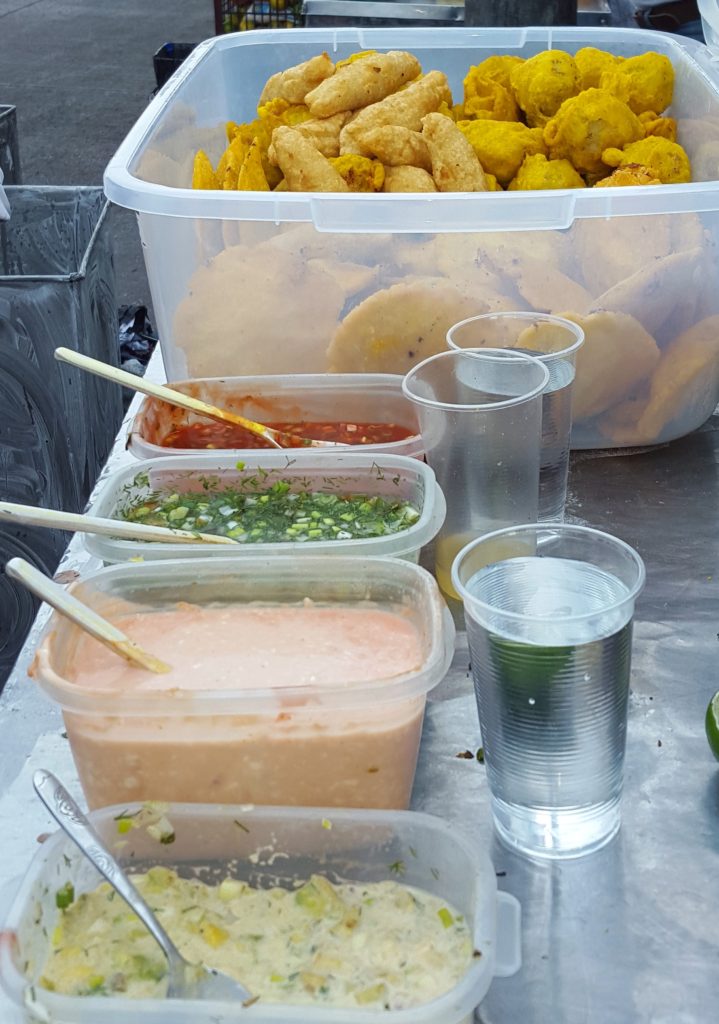 Matrimonio – once upon a time, a sweet boy named 'Guava' met a full-bodied girl named 'Cheese' and it was love at first sight.  They hung out, got married, and lived happily ever after.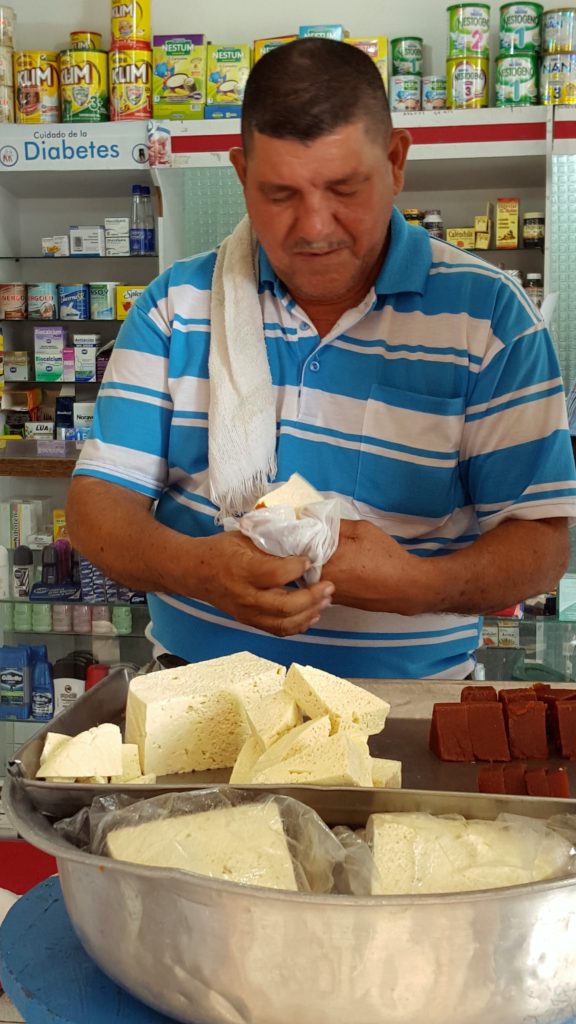 Chicharron – O.M.G. This pork dish is pure bliss. Crispy on the outside, and flavorful and tender on the inside, it hits the G-spot with every single bite. [Don't gape at me. I meant G as in gastric!What were YOU thinking?]. I had it with boiled yuca, also known as cassava. Three servings still left me ravenous and yearning for more.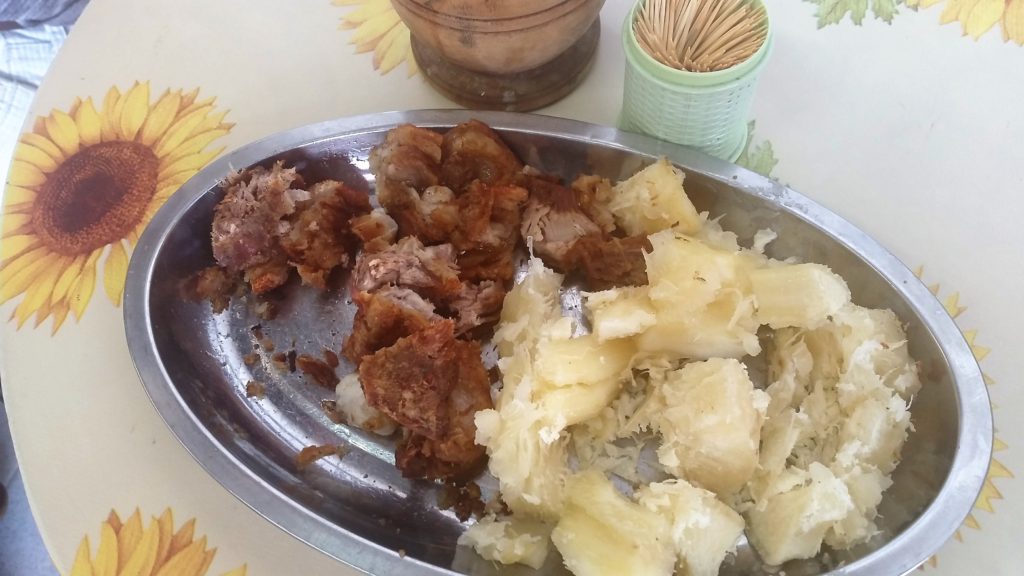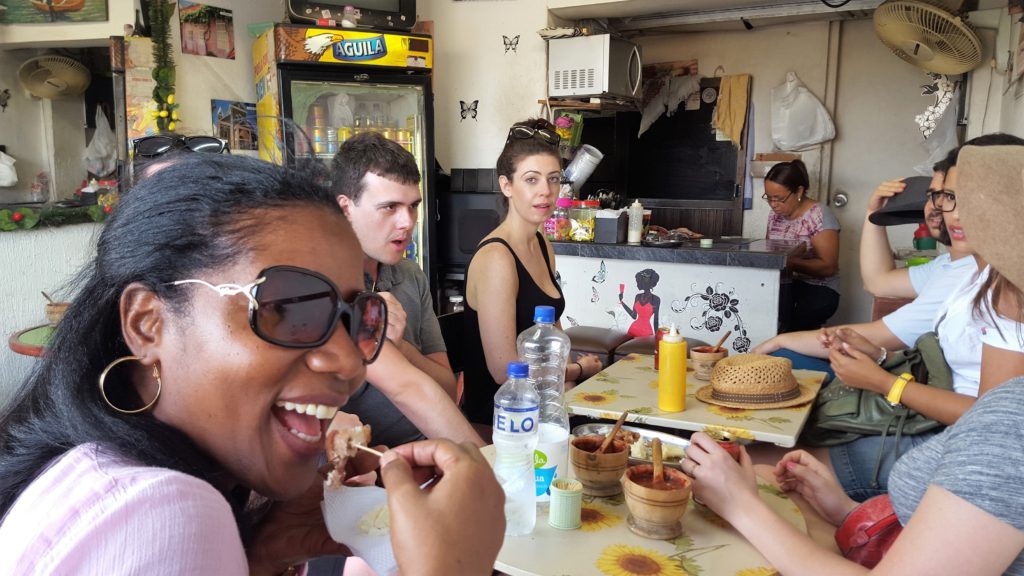 Café Mural – I ended the day at a small shop run by David, an engineer who decided to leave his lucrative job in Bogota to pursue his true passion – coffee. The table behind his bar counter looked like a mini science lab. It was stacked with test tubes, multiple-sized measuring cups and other equipment I couldn't identify.
But there was method to what appeared to be his crazy but lovable professor madness. David, whose grandfather owned a coffee farm, lives to experiment with new blends. I don't drink coffee but the others in my tour group raved about the blends they tasted.  I had a long glass of a mellow chocolate drink that was a fitting end to my day.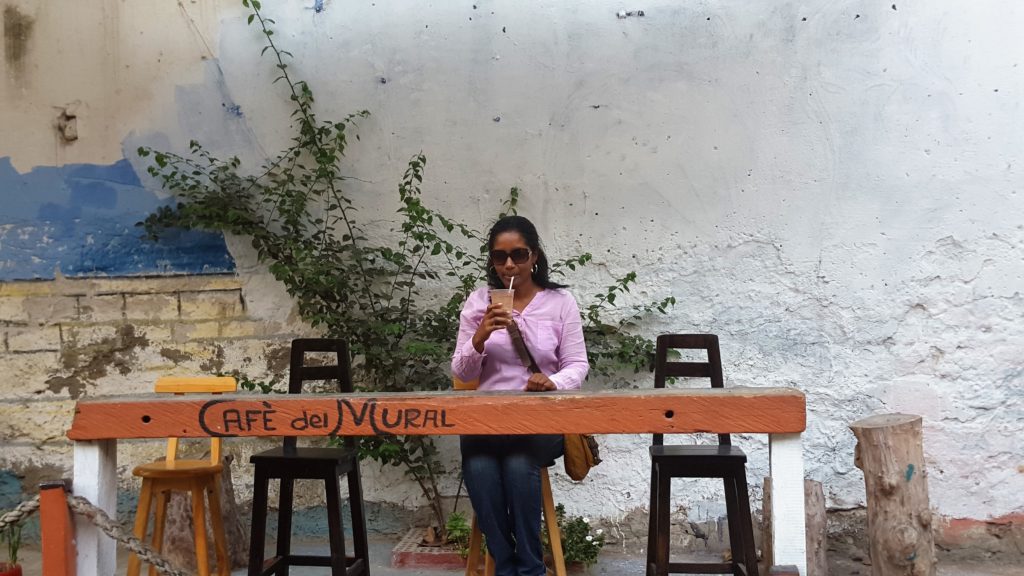 ARE YOU HUNGRY YET?
Editors notes:
In case you want to do something similar, I booked this tour with Cartagena Connections. Tours last between three to four hours and require a two person minimum. They depart at 2:30 p.m. daily. The cost was $30 when I did it.  With that price, you get to sample about eight items but you're encouraged to take extra pesos and try anything else that catches your eye.