Ever since the 1961 US embargo, Cuba has held a hint of mystique for the Western traveler. Call me silly but I always likened its allure to the attraction that a girl next door feels for the brooding and mysterious "bad boy" who drives her a little lust crazy.
All my female readers past puberty will understand the magnetism of which I speak.  You know that slightly cocky, risk-taking, cigar smoking and motorcycle riding James Dean lookalike who, at some point in our lives, was maddeningly close yet still out of reach.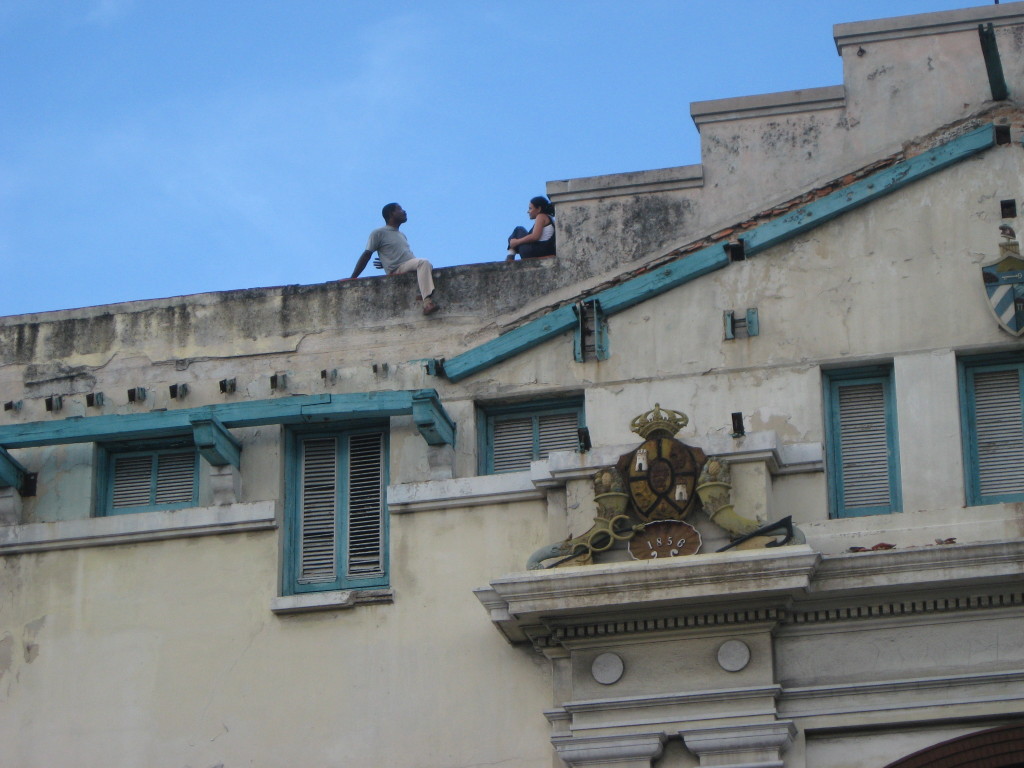 Then finally, one day the unexpected happens. You meet him and the two of you get to spend a little time together. And reality trumps perception. In fact, it turns all your preconceived notions upside down.
That is how I felt when I visited Havana. Next to the sense of stepping into a 1950s time machine, the second biggest impression I got was how devoid it was of swagger. By the end of my stay, I realized it was truly one of the most unpretentious and authentic destinations that I had ever been to.
While walking through the streets I saw families sitting at their dining tables talking and eating with doors wide open. On a bus tour, I passed kids who probably never heard of PlayStations and tablets playing contentedly with very rudimentary hand-made toys. Plus, some women even walked to the store with their hair still in rollers. There were no touristy costumes or hustles.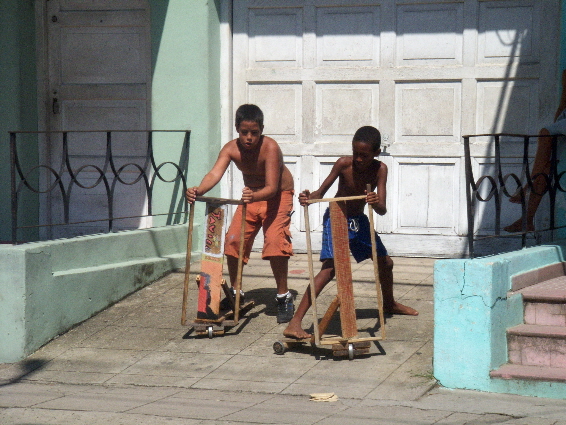 The very lack of pretense displayed also highlighted the country's resilience. Architecturally stunning buildings that told of former glory days stood majestically tall despite being in dire need of paint and restoration.
Locals drove brightly painted Oldsmobile Rockets, Chevrolet Bel Airs and other classic American cars that were buffed to perfection and ran like well-oiled machines. The condition of those vehicles served as further evidence of the resourcefulness and skill level of Cuban electricians and tradesmen. They had to adapt engines and keep up with repairs without access to factory-made spare parts.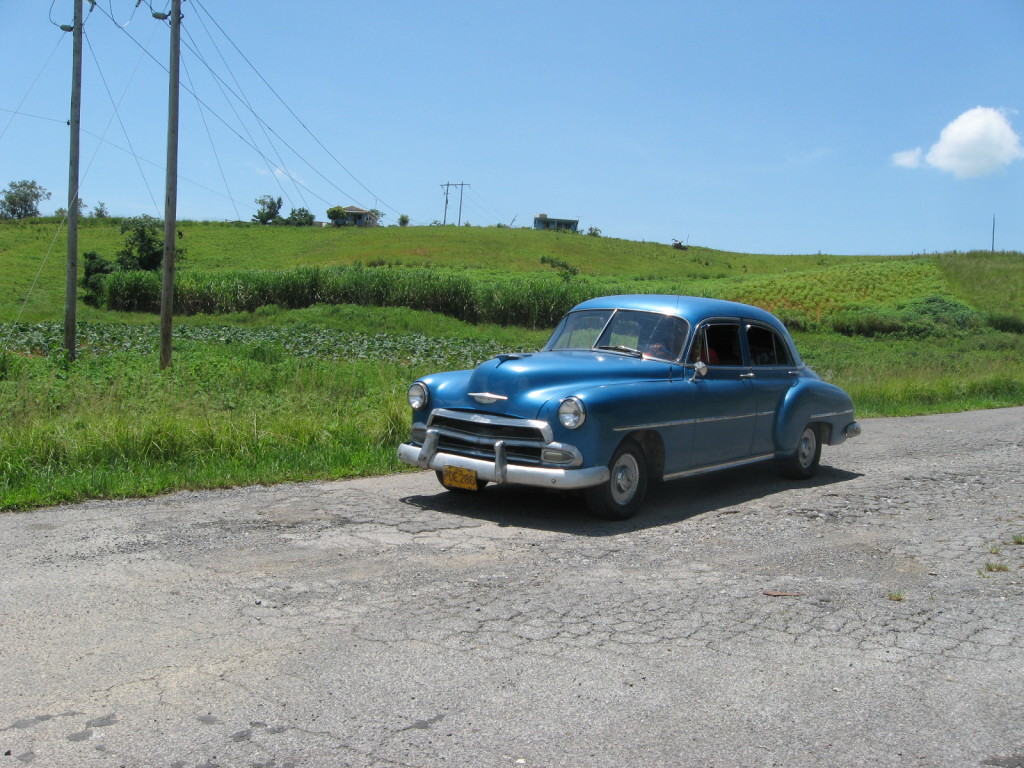 So if I were to sum up my 36 hour Cuban experience in one word, it would be "real".  Real people, real stories, real struggles, real need, real strength in the face of adversity, real beauty, and abundant warmth and hospitality.
If you go for a short visit, here are five suggestions for things to do.
1. Take a leisurely walk through the old town
Like Venice, Old Havana is a walking city. Our cab driver couldn't take us all the way to the hotel front door because of the narrow streets and pedestrian only zones, so we had to pull our carry-ons part of the way.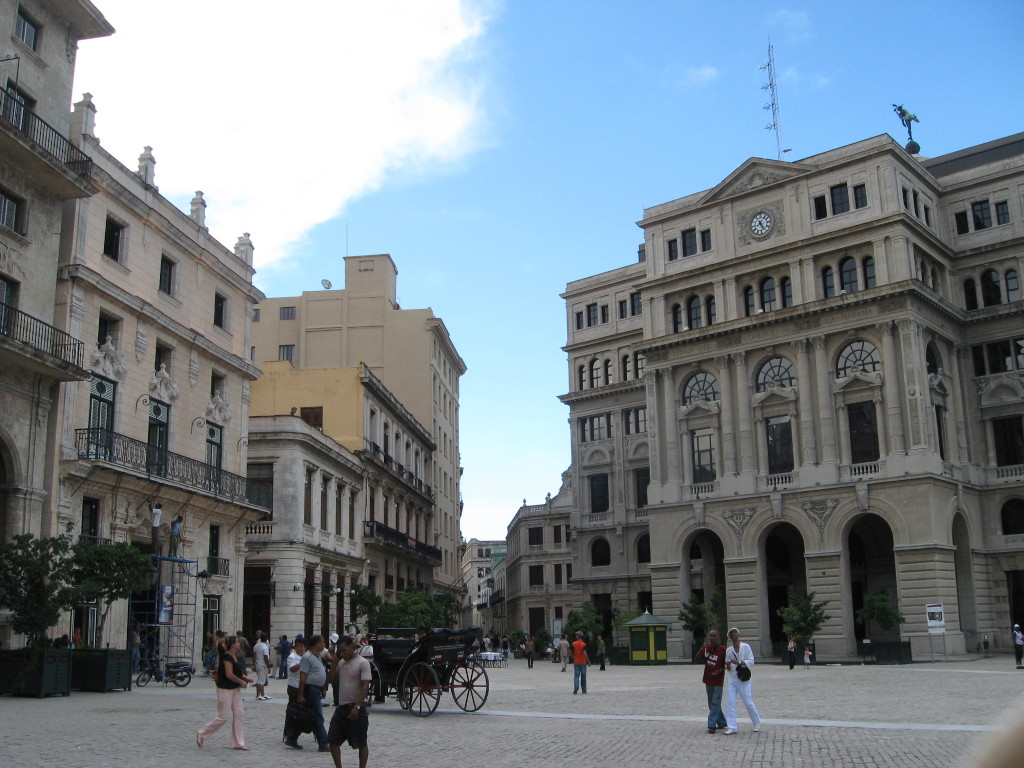 Built in the early 1500s, this part of the town showcases buildings from the colonial era. Many border either the Plaza Viaja, the Plaza de la Catedral or the Plaza de San Francisco de Asis. (Click here to see panoramic view of the Plaza Viaja) The level of detail on the buildings is incredible and they form the perfect backdrop for memorable photographs. When you get tired, you can stop to have coffee or grab a meal in any of the local eateries along the cobblestone-lined streets.
If you are free, return in the evening to enjoy some of the Cuban nightlife. Beautiful melodies are always in the air!
2. Stock up on local music and art
If you enjoy listening to Latin jazz, salsa and mambo, or collecting inexpensive originals from local artisans around the world, you can't leave Cuba without stocking up on some of its distinctive music and art.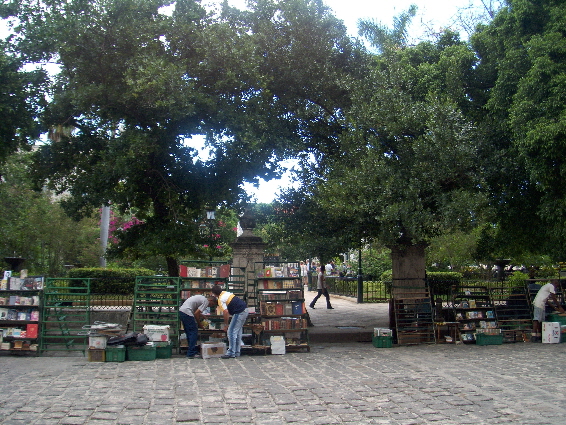 Ask your hotel concierge for the location of the nearest street market where you can buy compact discs, oil paintings, watercolors, wood carvings, basket work and hand-made jewelry. Warning: be prepared to negotiate for that extra special item.
3. Visit the Museum of the Revolution
If you are interested in Cuban history, a visit to the Museum of the Revolution is a must. Located on Calle Refugio 1, this museum's artifacts are housed in the former Presidential Palace once used by ousted leader Fulgencio Batista.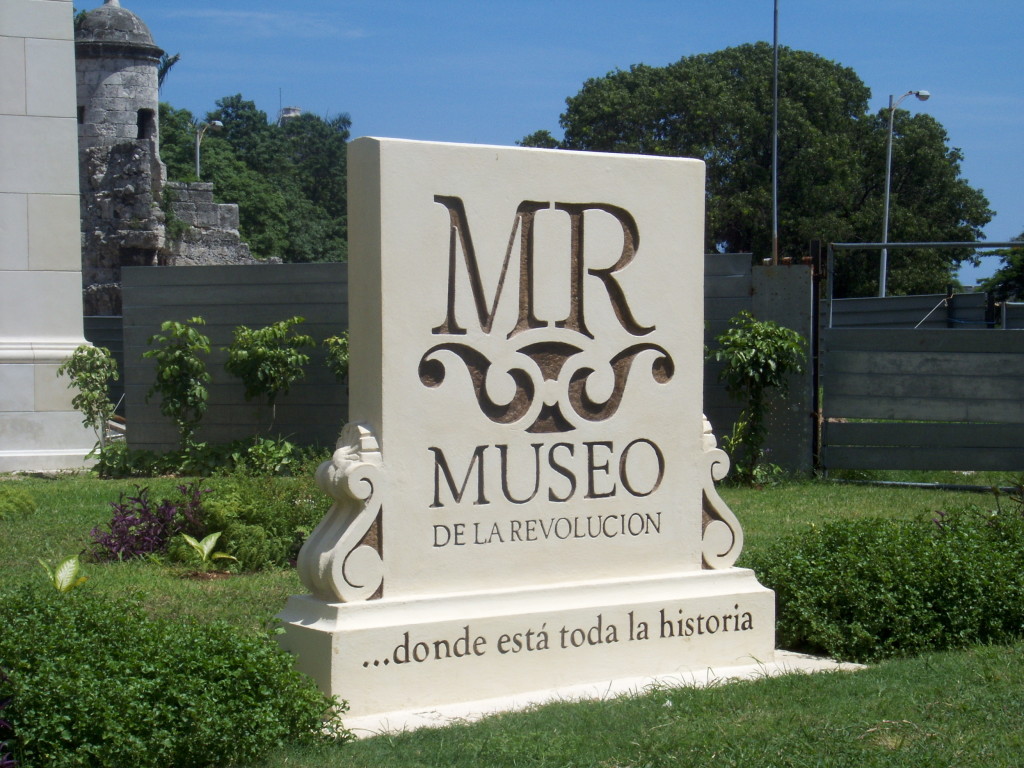 The displays are on different levels, ranging from the country's pre-Colombian culture to its current communist regime. Many exhibits pay homage to the Cuban Revolution and the War of Independence that the country waged with Spain. Fidel Castro, Camilo Cienfuegos and Ernesto "Che" Guevara are all prominently featured, and you will see everything from blood stained military uniforms to downright silly and satirical commentary on former US presidents.
Across the street, you also can find open air exhibits such as tanks and vehicles, a part of an alleged American spy plane, and the yacht Fidel and Che sailed on from Mexico.  Go at the right time, and you might catch the changing of the guards.
4. Book a day trip to the Viñales Valley
About a 3-hour drive out of Havana, a ride through the hills and into the Viñales Valley offers you a breathtaking view of one of the most popular areas for tobacco production and farming.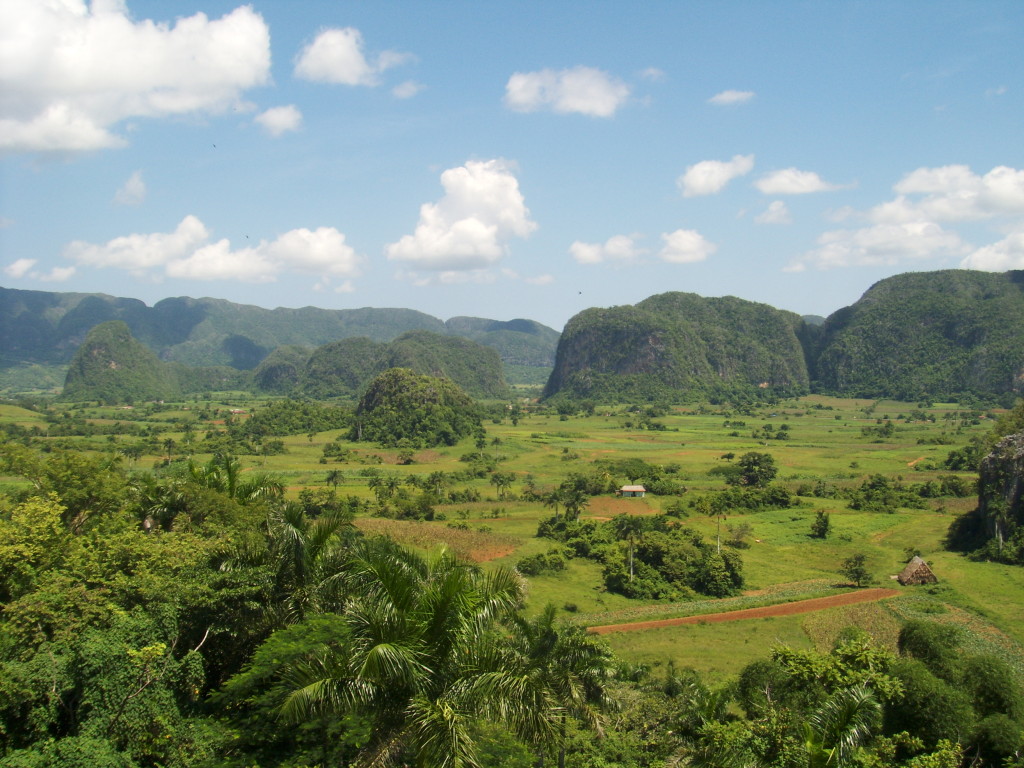 On the way there, you can stop and have lunch at the Mural de La Historia, a 120m-long painting on the side of Mogote Dos Hermanos.
I was told that Cuban painter Leovigildo González Morillo designed the mural in 1961 and it was painted by local farmers. The dinosaurs, sea monsters, snail and humans in the painting symbolize the theory of evolution.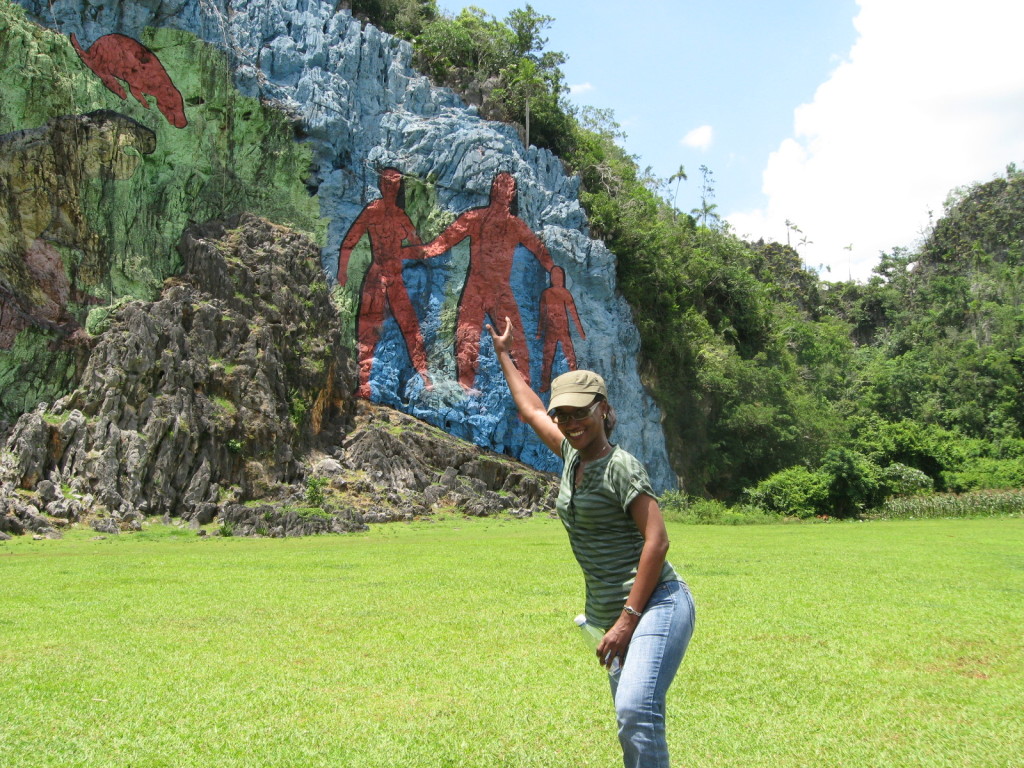 On my trip, I also visited a rum factory, a small limestone cave called Cuevo del indio, and we stopped at La Casa del Veguero. The latter is a restaurant with a secadero (traditional tobacco drying house) and a live demonstration of how to hand roll Cuban cigars. (Click here for video)
5. Sip afternoon cocktails on the lawns of the Hotel Nacional
No trip to Havana is complete without a visit to the Hotel Nacional, one of the oldest properties in Cuba. Reportedly, it was the host hotel for a notorious mob summit – The Havana Conference of 1946 –attended by leaders of the United States and Sicilian Mafia who converged on the island to discuss transnational mob policies, rules, and other notable "business  interests".   It is likely that the resolutions and agreements made in that pivotal meeting were implemented and observed by crime families for many decades.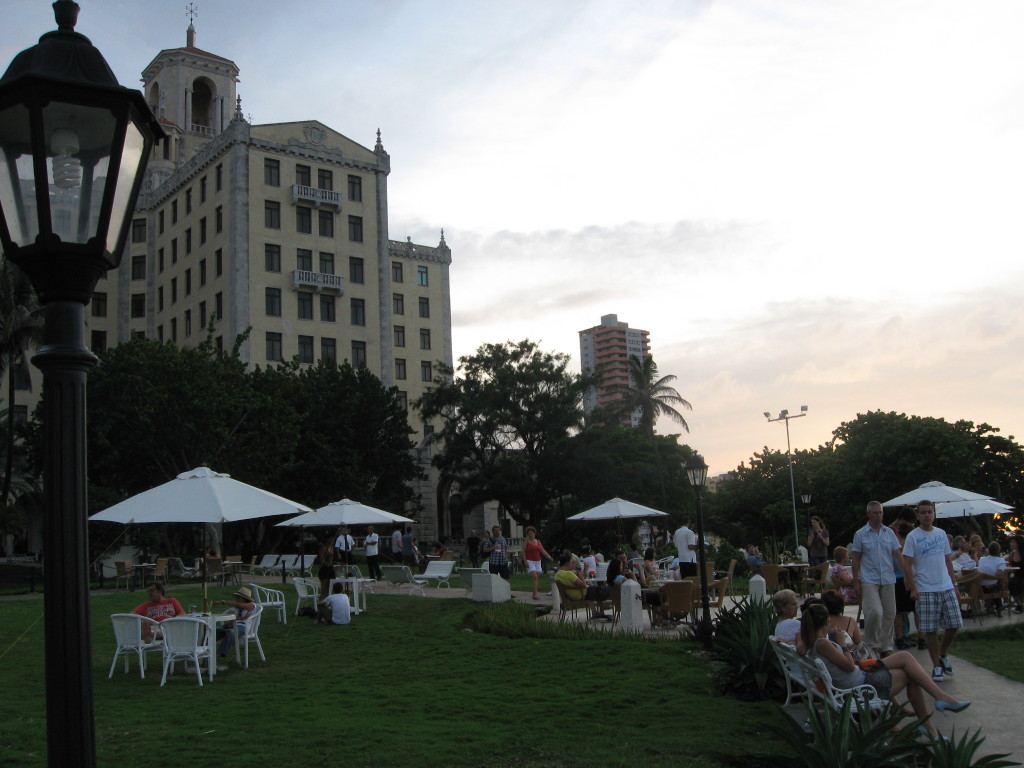 The hotel's lawns overlook the waterfront area and you get a peaceful and relaxing view of the locals' evening activity. If you wish, you also can check their event listing and go to see their lively cabaret show.
_
Now that Cuba's doors are more open to US travel – albeit within specified categories – I expect a rush to the border. So book early! If you plan to participate in athletic, cultural, religious, educational or humanitarian activities, it should be easy to get a license to travel.
Editor's Notes:
1. Take Canadian or European currencies as foreign exchange transactions involving the US dollar attract a surcharge. (Aug 2015 update: Due to the devaluation of the Canadian currency, I've heard that it is not being as widely accepted as before)
2. I saw far more billboards and iconography of Che than I did of Fidel Castro. Given that he was an Argentine transplant and second-in-command, I was completely taken aback by the degree of his popularity.
3. Order a pork dish somewhere… especially one prepared for the non-tourist palate.  The "cerdo" I had in the countryside was one of the best tasting meals ever.