Do you know what happens when you decide to book a three-night stay in an unknown destination the day before you fly? I'll tell you. You fervently hope the domestic airline on the receiving end of your purchase click is reliable, then you scramble like a crazy person to finalize your hotel selection and come up with a workable itinerary for sightseeing.
That's how I ended up in Medellin, Colombia during the time I was scheduled to be solely on vacation in the coastal town of Cartagena with the world's best travel buddy (my sister). We were zen and totally chilling until we decided it would be cool to use the opportunity to visit another region of the country.
Although I ended up with uncomfortable tummy issues while there, I am glad we did it.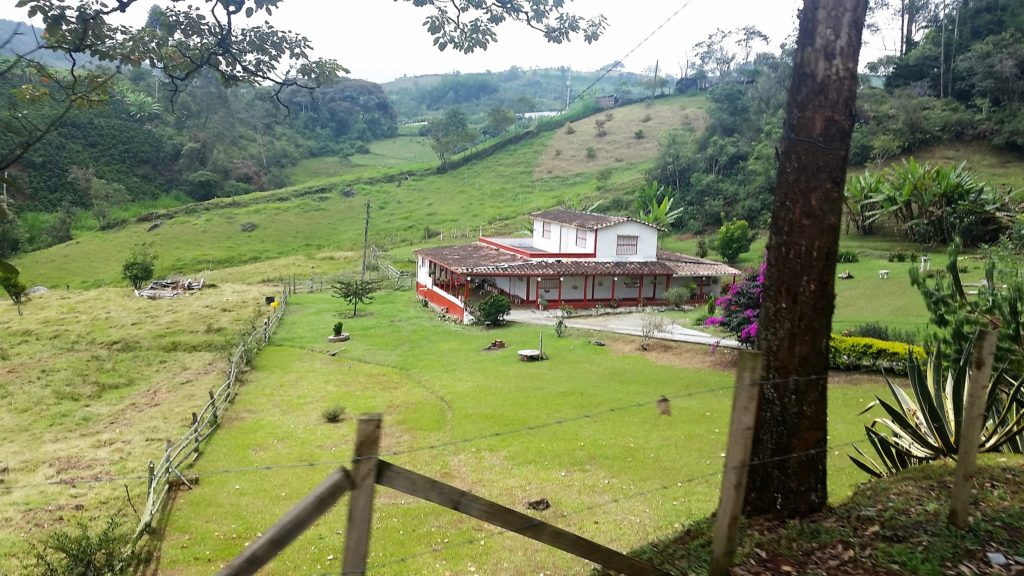 The first tour we booked was a day trip to the picturesque town of Guatapé. Nestled between curvaceous hills and bordered by debonair lakes, the journey is just under two hours from Medellin.
Our first treat was a food stop to enjoy a traditional Colombian breakfast of hot chocolate, eggs, arepa, cheese and sausage courtesy of a local restaurant called El Rancherito Lo Mejor.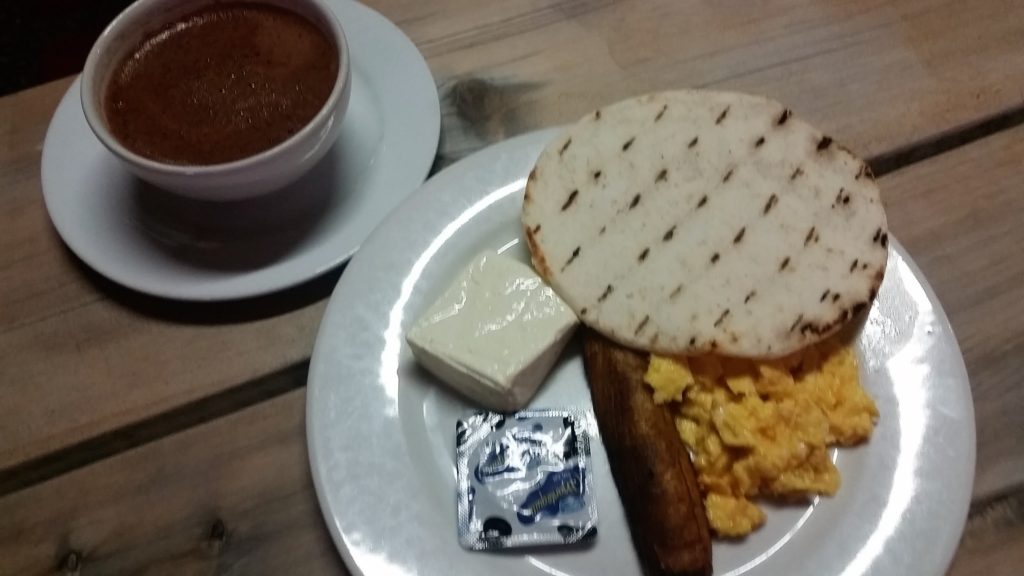 The open air setting and bench-styled seating all cleverly positioned around a visible working kitchen added an authentic old-world charm to the experience.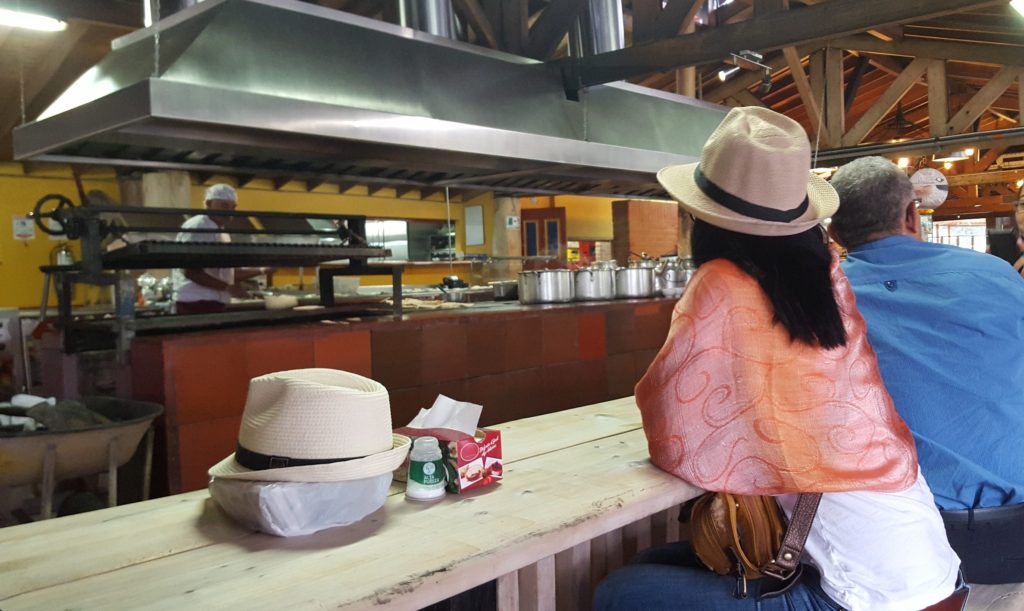 With sated stomachs, we then drove through scenic countryside that offered up spectacular views of hills and valleys, humble abodes and farms dedicated to different crops.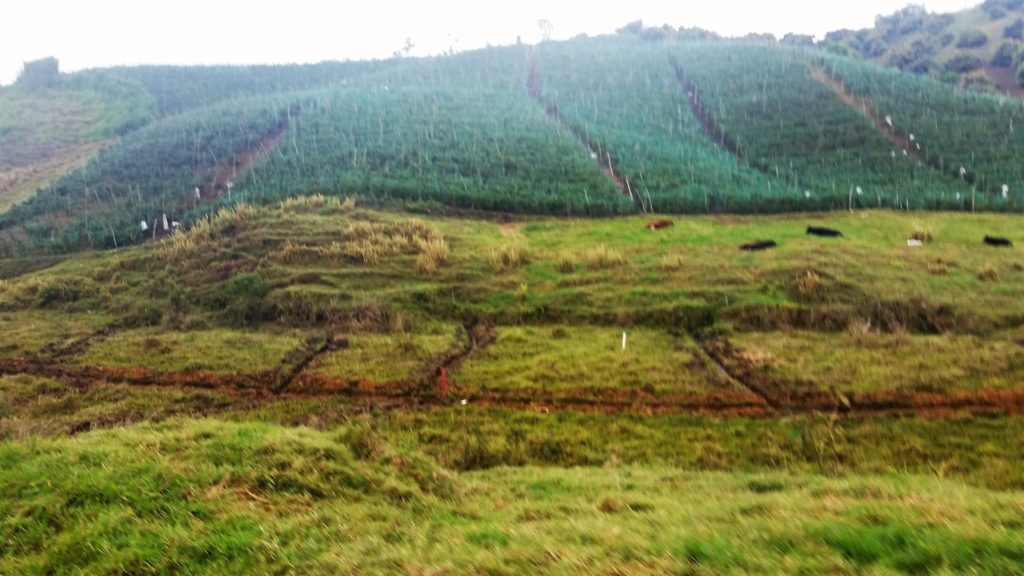 Soon, we arrived at the town of Marinella, a major cultural center that has been lauded as a place of "stories, guitars and great natural beauty". The dramatic La Fenix De America monument in the town's square had everyone on the bus clamoring to get off to take pictures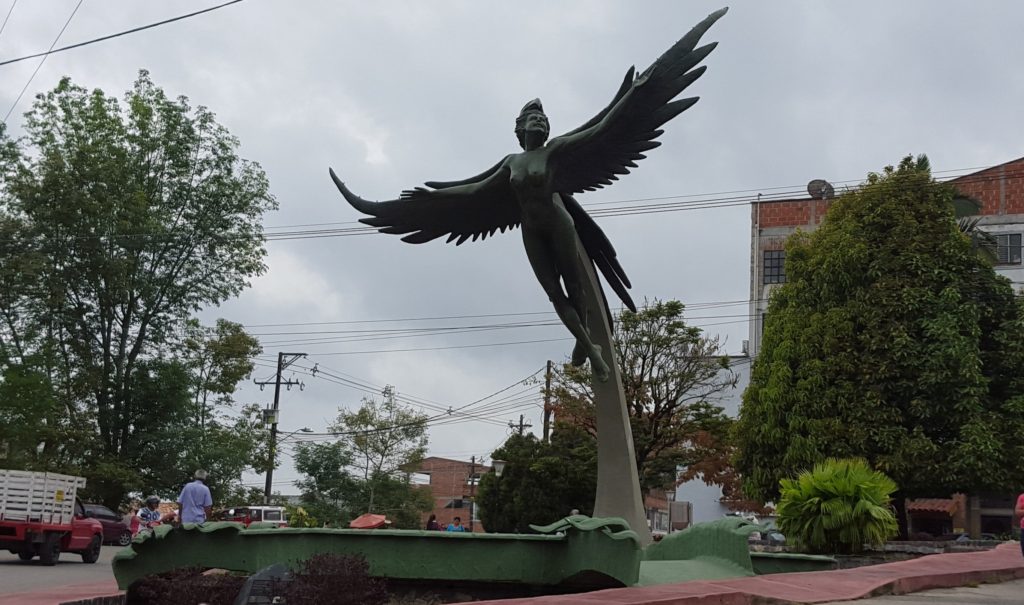 After a brief stop to capture the scenery, our bus driver then took us to El Peñol, a small town that had to be relocated after it sunk in the 1960s. Our tour guide said the government had built a hydroelectric dam to supply Medellin and surrounding areas with water but it caused severe flooding in the immediate area. As a result, many buildings were submerged. This picture shows me sitting in a bench before a replica of it.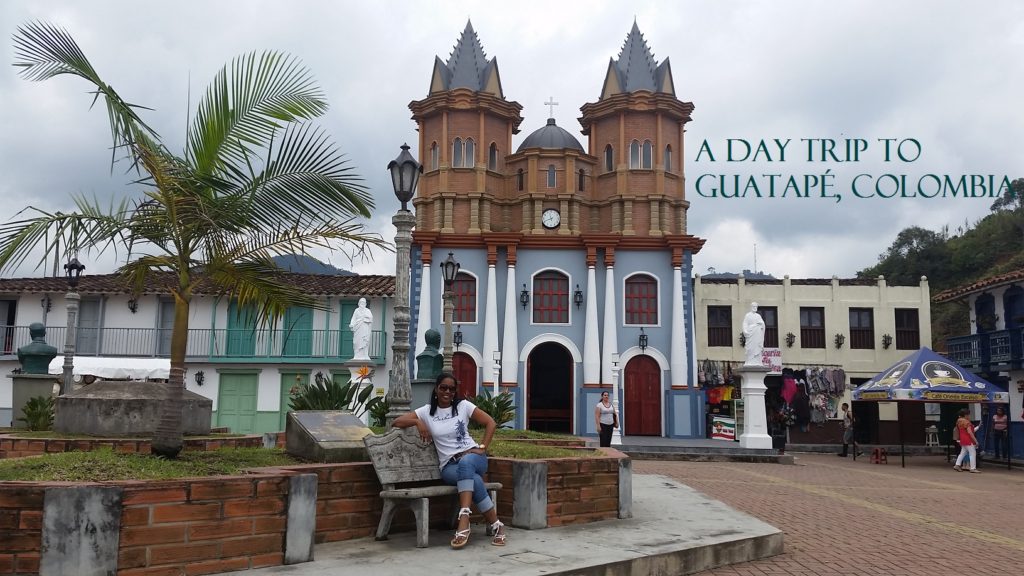 From there, we boarded a vessel for a relaxing cruise along the Guatapé Reservoir where we saw fishermen passing by in their boats, beautiful mansions perched on the hillsides, and the remains of one of Pablo Escobar's homes. They also pointed out one formerly occupied by his mother.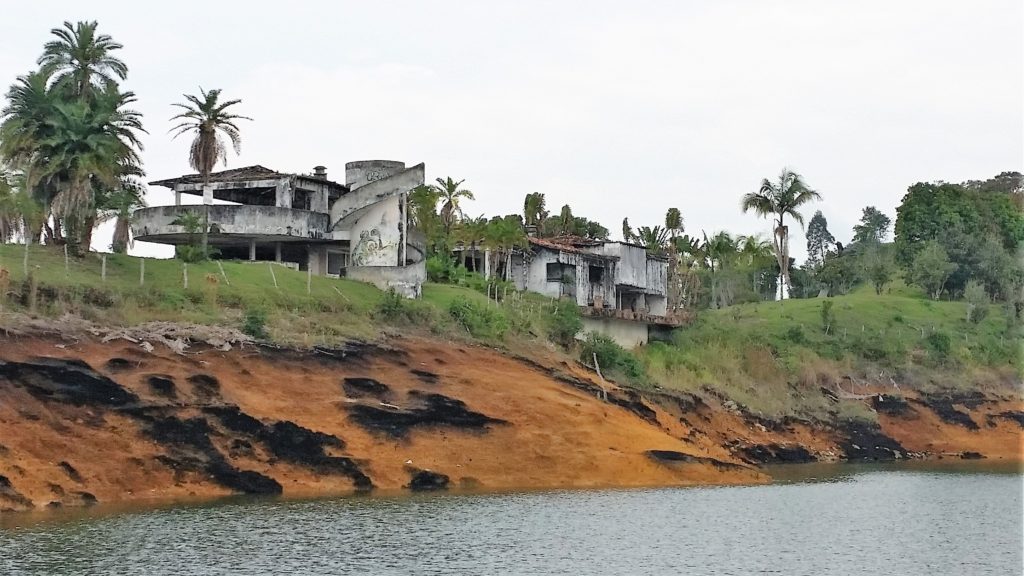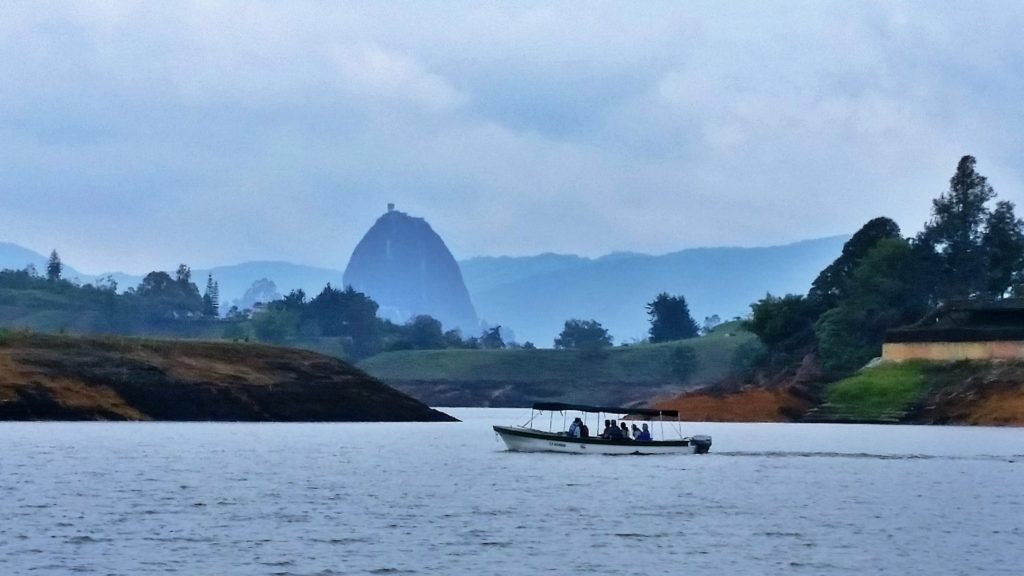 I also got pulled into an impromptu tourist version of either the vallenato, salsa or merengue. Watch me shake and shimmy like a pro. Riiight!
Lunch went down well in Guatapé at Asados Mi Casita. It was a typical meal of  of beans, chicharron (fried pork belly), plantain, fresh salad and a fried egg.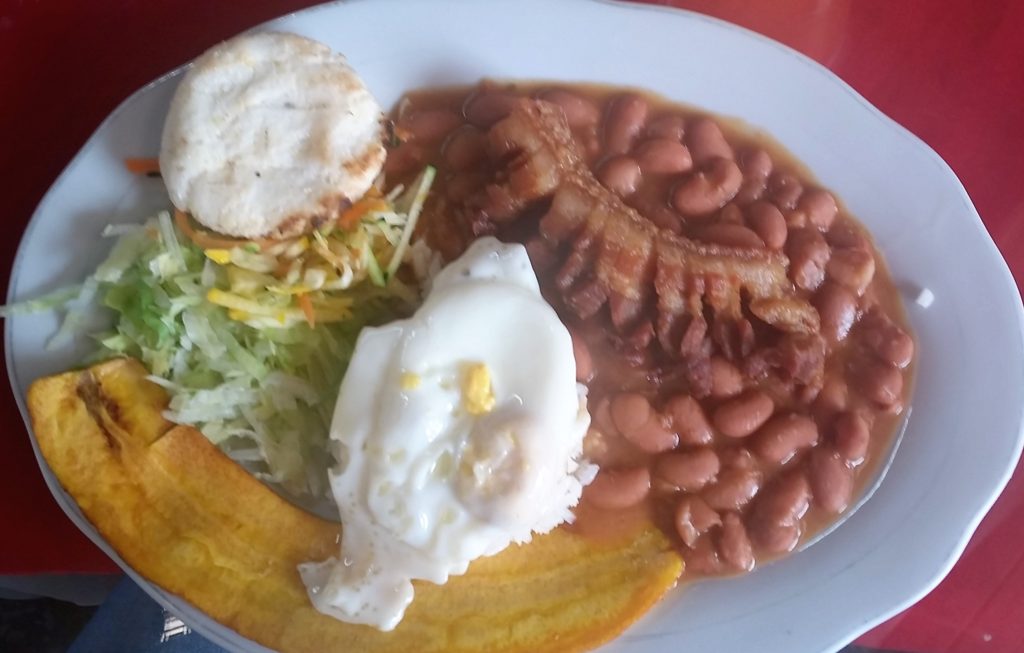 I then took a stroll through the cobblestone streets that were reminiscent of Colonial times.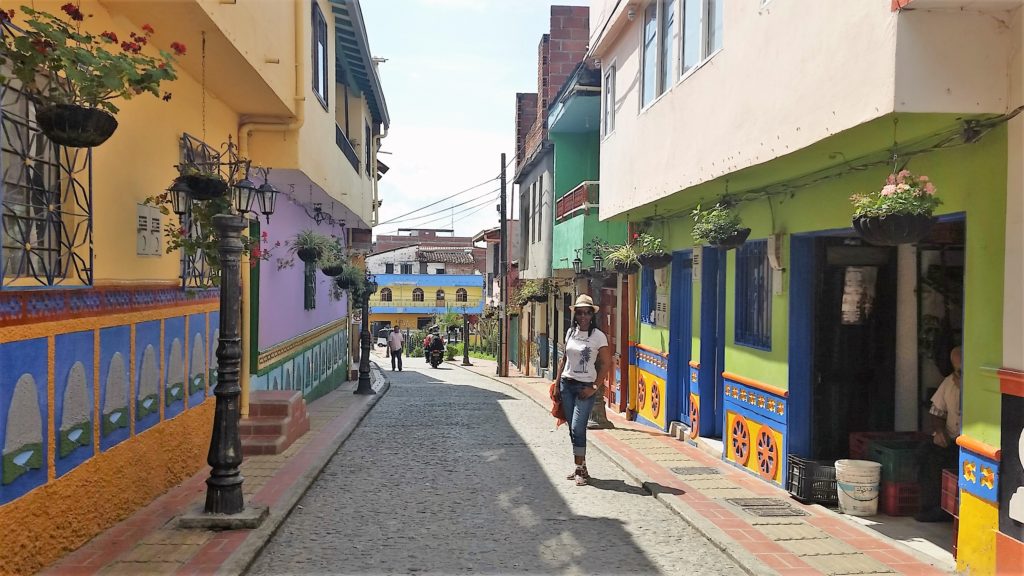 Shop keepers loitered near their doors, residents went about their daily business and nifty little motochivas zipped up and down the narrow streets. And oh, what a blast of color it was! The vivid buildings made me feel as if I was a guest character in a fun, coloring book.
Many of the lower half of the buildings were adorned with brightly painted "zócalos". They are murals that depict everyday life.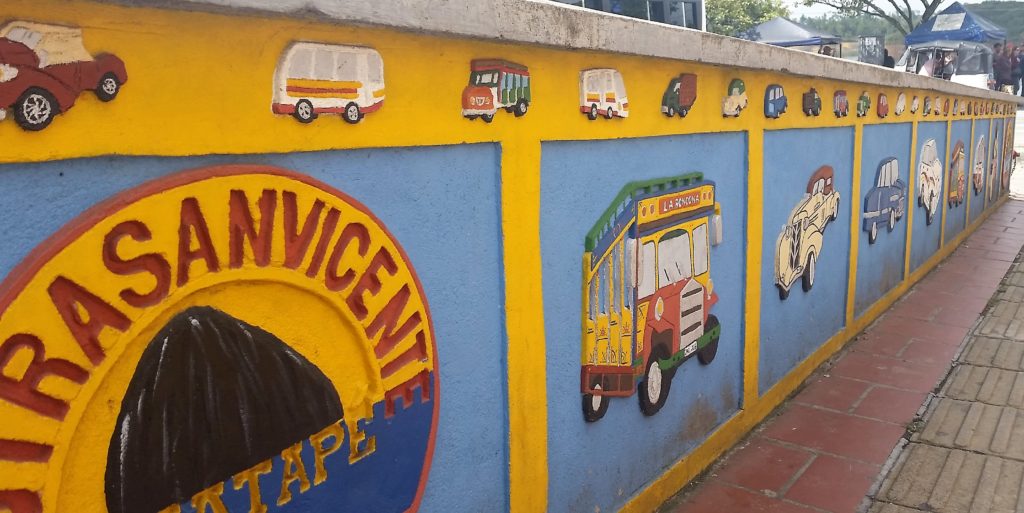 The penultimate stop gave us a chance to climb the world-famous national monument known as La Piedra del Peñol, a giant rock that juts out of the landscape rising to 7000+ feet. Don't quote me anywhere but to my somewhat warped mind,  I think it resembles an oversized breast punctuated by a very erect nipple if you look at it sideways.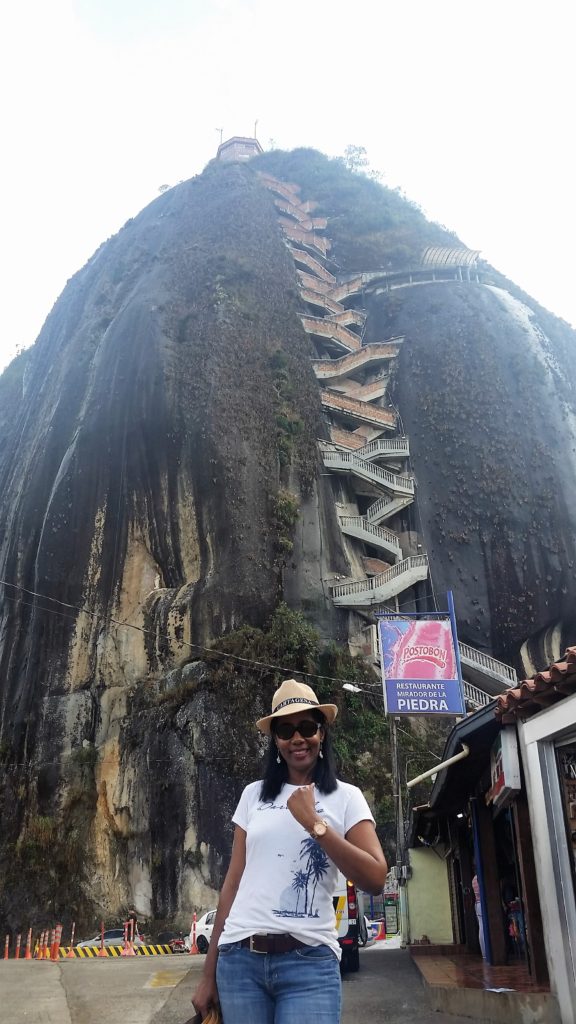 Attempt the climb only if you are at your fittest. I must say the views at different points along the way are well worth the strenuous 740-step ascent.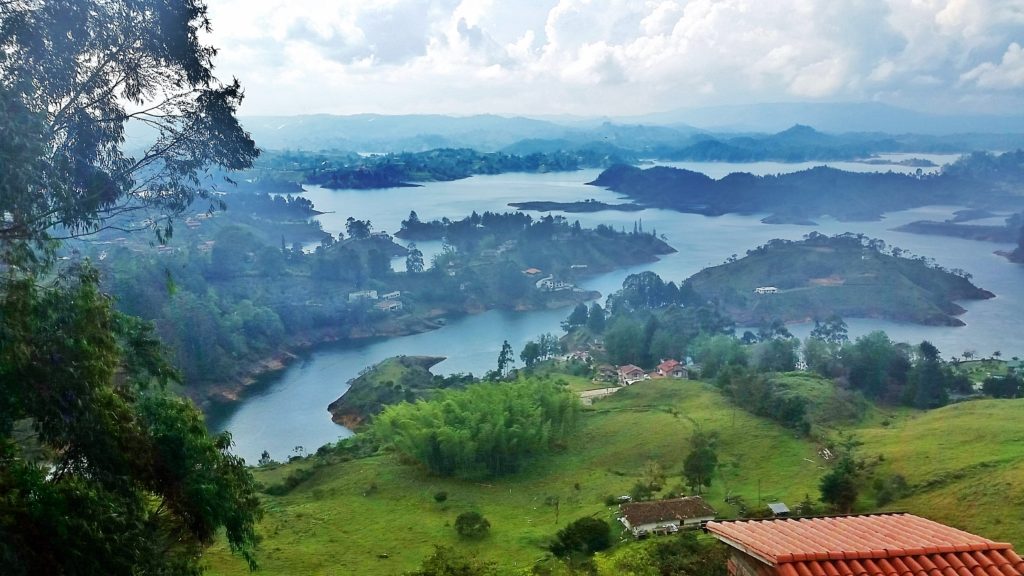 _________
Editor's Notes:
I booked my tour with a company called Tours Guatapé and it cost $69.000 Colombian pesos, inclusive of breakfast and lunch with a Spanish-speaking guide. If you'd like to have English translation, there are no headsets. You must request a bilingual guide ahead of time – at a  premium price. It was nearly three times higher. (Can you guess which option I took? Yup, I depended on my years-old and very rudimentary high school Spanish to make it through the day) Ask for Ale Guia (Spanish speaker) and David (English assistance) as your guides. Also, there is an additional charge to climb La Piedra.
As a side note, given my tummy issues, I'm cautioning you to be careful of the tap water in Medellin. I drank bottled water all the time but I only realized on the second day that the water I asked to be heated for my tea was not boiled. It was tap water put in a cup and heated in a microwave. The next day I was vigilant and asked the kitchen staff to use the water I provided.
Finally, English is not as widely spoken in Medellin as one may expect so please take a dictionary with you or download a foreign language app to assist you with communication.