One of the greatest things about the tango is that it has infinite possibilities. There are no fixed rules for timing, speed, or direction and that freedom allows dancers to improvise and live 'in the moment'.
Some of my best vacation moments happen when I do just that – live in the moment. That's why I took an extra vacation day to do a quick dance with Argentina after my business conference in June 2010. After three days of touring nothing but plush yet generic meeting room space, I desperately craved a dalliance. Day four was my ballroom and Buenos Aires was my partner. I set my own pace and timing.
The conference was held at the Four Seasons Hotel in the heart of Buenos Aires. Regrettably, I didn't get remotely close to the country's famed snow-tipped mountains in the South Chilean border. Nor did I see the magnificent natural beauty of the Perito Moreno Glacier, or any of Iguazu's breathtaking waterfalls.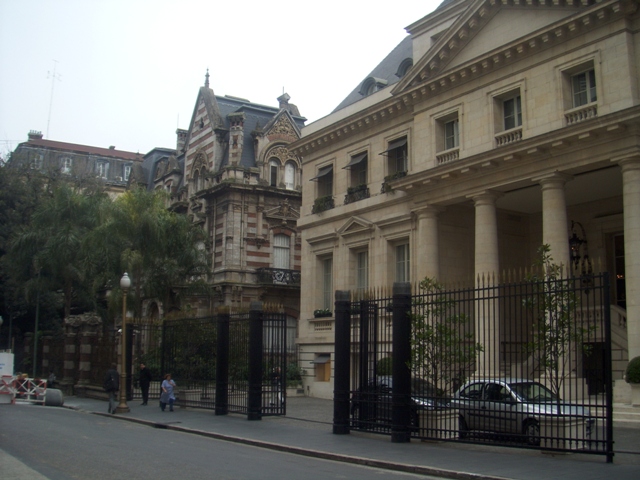 However, what I did see was impressive Spanish Colonial Architecture – with Italian and French influences; fashionably dressed porteños; and a thriving Buenos Aires arts scene. Plus, some of the best leather products on the planet. Luckily, I escaped credit card purgatory by consciously avoiding the handbag stores.
But I couldn't stay away from the shoes. I tried to be strong, and was quite happy I only ended up buying a pricey pair of thigh high boots. They were SO worth it!!! Let me tell you something, those hot patches of leather shoot my swagger through the roof every time I wear them. Rihanna WHO? In them, I'm the one who is totally badass!
World Cup Fever
Perhaps the best part of my impromptu vacation was the fact that I got to experience a part of the Argentine culture that only kicks into high gear every four years. You could call it World Cup Mania. I toured the official World Cup Village and felt the nervous yet expectant energy bouncing off everyone I interacted with. The love of the game was clear.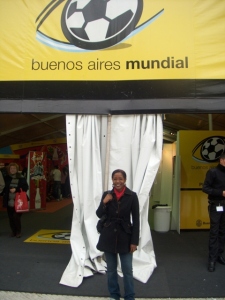 Massive billboards and posters of their star athletes lined the city center. Blue and white jerseys displayed national pride from every shop window, and everything – speech, transactions, productivity, sheer movement – stopped when a match was in progress. The same thing happens in my country when we watch the track and field events during the Olympic Games.
City Tour
Did I forget to mention that one of my college friends is from Argentina? Lucky for me, he lives in Buenos Aires and he agreed to play tour guide and translator for most of my free day.
We took a three hour bus tour, and did some walking on our own.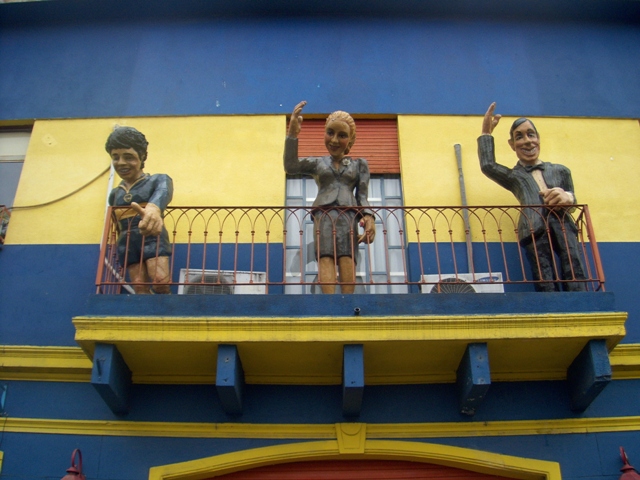 At various stops along the route, we walked down the colorful streets of el Caminito in La Boca; stopped for tea or coffee in a local cafe, and took pictures at notable landmarks like Maradona's statue and the Casa Roda. The latter is a baby pink mansion that houses a museum and the executive office of the President of Argentina.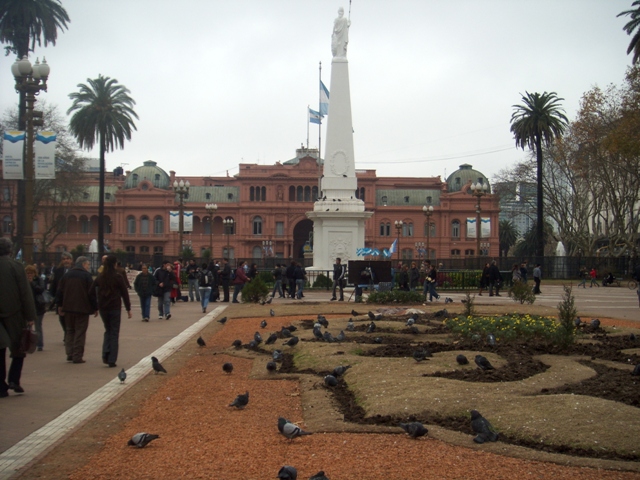 While walking, I also caught the tail-end of a union strike. Police battalions were out in large numbers to force back the expected crowds. Strikes appeared to be commonplace occurrences.
In the evening, I went to see a dinner and dance show with one of the conference delegates. My college buddy had ditched me at that point because he refused to watch a dance show for tourists. Well, there was no way I was going to leave Buenos Aires without seeing the famous Argentine tango.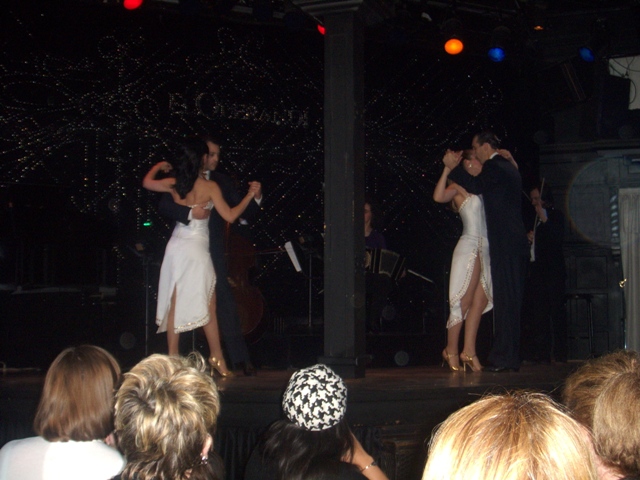 The performances were elegant, energetic and fun to watch. Yo no podía quejarme de nada. _______
Editor's Notes:
As is the case with any other big city, you need to walk with your wits about you in Buenos Aires. At the dance show, an elderly couple told me that they were robbed on the subway.  The thief used a coughing and hacking technique to get into the husband's personal space. He lost US $100 and his wallet in the process
Despite my overwhelmingly positive experience in Buenos Aires, I must admit that I had one negative episode myself.  It involved a rather pathetic individual  who spouted a racially discriminatory comment during a tour.
The slight wasn't directed at me in particular but I'll be honest, my blood literally ran cold at that moment. I thought long and hard about what to do or say and eventually took the high road.  Especially after I realized that the man was an equal opportunity abuser. He had nothing good to say about Americans, Chileans, Peruvians or Brazilians either.  The irony was that for all his arrogance, he was an immigrant who was in a dead-end job; obviously bitter and frustrated with his circumstance.  Tres touché!